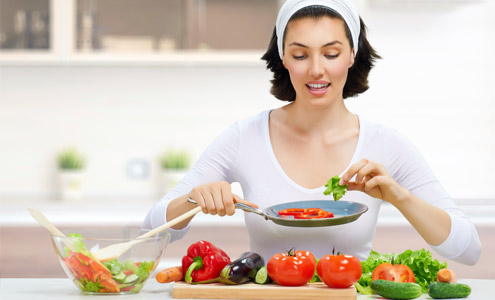 Wellness Tip: Which are more beneficial to health—raw or cooked vegetables? The answer is "both." Phytochemicals in vegetables fight free radicals (extremely reactive chemicals in the body) to help prevent some cancers and chronic diseases. However, certain plant foods retain more protective properties when cooked. For example, tomatoes provide more cancer-preventive lycopene (a carotinoid) when cooked in olive oil, a healthy fat. Conversely, raw garlic imparts more health benefits.
For best results, include a broad variety of colorful veggies, raw and cooked, into your daily diet. When cooking, steam to preserve more nutrients. Always fill half your plate with vegetables.

www.cancer.org
---

Check Out More Wellness Tips

· How to Avoid Buying GMO Foods in the Supermarket

· The Trouble With Sugar

· Energizing Superfood Smoothie

View All Tips




Wellness Exists to Empower Health Conscious Consumers. Wellness.com helps people live healthier, happier and more successful lives by connecting them with the best health, wellness and lifestyle information and resources on the web.
View Full Profile
Website:
http://www.wellness.com/