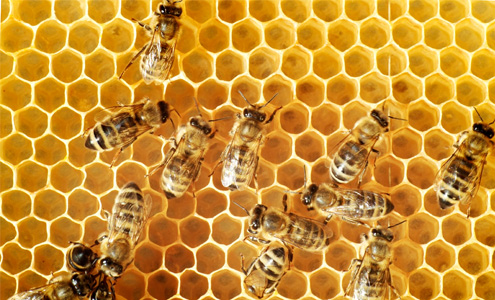 Bees are essential to the plant foods we eat. In the U.S. alone, industrious bees annually help pollinate crops worth more than $200 billion. Pollination is the main job they perform for humans. Raw honey is the main product they produce.

What is "raw" honey? Isn't all honey the same—a sweet sticky substance made by bees that you add to your tea or drizzle into a bowl of cereal?

Wrong! Raw organic honey (preferably from a local source) offers so many benefits, it's quite likely honeybees are more helpful to humans than any other insect. That's why it's crucial to discover the reason for the mysterious large-scale deaths of honeybees in the U.S. and Europe during the past six years and stop the trend.

Making honey is another important honeybee craft, one that takes incredible beehive teamwork. Producing a single pound of raw honey takes the effort of approximately 60,000 honeybees, altogether traveling up to 55,000 miles and extracting pollen from more than two million flowers!

Raw honey has been used for millennia as a food. It's rich in nutrients, containing 22 amino acids, 27 minerals and a whopping 5,000 live enzymes. Nature's "super food," honey strengthens the immune system, boosts healthy digestion, fights disease, and helps eliminate allergies.

You can garner all these benefits from one daily spoonful in your tea or spread on a slice of toast. That single nutrient-rich spoonful (unlike refined sugar, which has no nutrients) provides four grams of fructose, or fruit sugar. If you're healthy and not advised by your doctor to avoid all sweeteners, you should be able to eat honey in moderation and profit from its healthy qualities. Count your total daily fructose grams and stay below 25, including honey and any fruits you eat.

When you have a cold or sore throat, swallow one-half teaspoon of raw honey to coat your throat and lessen irritation. Stir one teaspoon of raw honey into a pot of very hot water, cover your head and the pot with a towel and breathe in the steam to unblock your sinuses. Honey works as well to soothe coughs as the OTC cough medicine ingredient dextromethorphan.

Allergy to honey is almost non-existent; however, raw honey poses a risk for infants. The Centers for Disease Control recommends that you never feed honey to a baby less than one year of age. Clostridium botulinum spores may be present in raw honey. Children older than one year and healthy adults have fully-developed digestive systems that inhibit the spores from flourishing. Infants less than one year of age do not, making them vulnerable to a rare, serious disease that causes varying degrees of paralysis.

Honey has numerous topical uses as well as internal ones. Its natural antiseptic and antibacterial properties are useful for treating wounds and burns more effectively and with less pain or side effects than traditional medical treatments. It reduces swelling, prevents infection and promotes healing. Clinical trials proved that Manuka honey, a dark honey made with pollen from the medicinal Manuka bush in New Zealand, can wipe out more than 250 strains of bacteria, including such resistant types as MRSA and other staph varieties. While Manuka contains some as-yet-unknown factor that other types of honey don't have, research shows that other raw (unprocessed) honey also helps heal wounds.

Raw honey is additionally a natural beauty product that was used as far back as Cleopatra's era, when the queen of Egypt took milk-and-honey baths to soften her skin. It's added to many popular beauty products today: as an anti-aging skin care ingredient, a deep conditioner for dry hair, a skin moisturizer, and others.

In order to do these things, honey must be raw -- unprocessed. Processed honey from the grocery store does not provide these health benefits because (at the very least) it has been heated and filtered. This processing destroys honey's natural nutrients and enzymes. A full 75% of the commercial honey sold in top American supermarkets—including those brands labeled "natural" (an unregulated term that has no real meaning on food labels)—is imported from China and is so highly processed that it retains none of its beneficial properties or even any pollen.

Your best source for raw, unprocessed honey is a local beekeeper. Often, local raw honey is sold at farmers markets, co-ops or health food stores. (A teaspoonful of local honey every day beginning two months before the start of allergy season can prepare your immune system to fight regional allergens.) If you don't have access to local raw honey, your next best bet is a store such as Trader Joe's or Whole Foods Market that sells certified organic 100% pure raw honey.

Don't be put off by raw honey's crystallization or dark specks. It's far superior to honey that's treated with heat to remain smooth, liquid and appealing. Go for the raw!

Selected Sources

http://www.cdc.gov/nczved/divisions/dfbmd/diseases...
http://www.sciencedaily.com/releases/2012/01/12013... "Honey could be Effective at Treating and Preventing Wound Infections," January 31, 2013. Source: Society for General Microbiology.