Cutera
CoolGlide Excel®
AcuTip 500™
Cynosure
Cynergy™
---

CoolGlide Excel® Vascular Laser
The CoolGlide Excel is the first clinically effective 1064 nm Nd:YAG laser for treating leg vascular conditions. With truly independent control of pulse width, spot size and power, the Cutera system can target a wider range of vessels than other systems, including competitive 1064 nm wavelengths.
About the 1064 nm Wavelength
The Cutera 1064 nm laser has proved to be a superior light source for the treatment of a wide range of vascular lesions - including the clinically challenging deep reticular vessels on the lower extremities. Deeper penetration and a more moderate hemoglobin absorption makes 1064 nm wavelength more useful for the deeper vessels. Further, with the right combination of parameters, the 1064 nm wavelength is also suitable for more superficial telangiectases and spider veins on both the face and legs.
Advantages of CoolGlide Excel
Controls the depth of penetration through spot sizes 3, 5, 7 and 10 mm
Variable pulse durations to adjust to different vessel diameters
Moderate hemoglobin absorption but minimal melanin absorption
Gold plated copper cooling handpiece with more than 10 times the thermal conductivity of sapphire windows
ClearView handpiece for unobstructed view of the target
AcuTip 500™... Flashlamp Technology
AcuTip 500 was designed to treat discrete facial telangiectasia and pigmented lesions. The unique design combines the targeted delivery of a laser with the economics of a flashlamp.
About the AcuTip Wavelengths
The emission band of the AcuTip 500 is 500-635 nm, an ideal spectrum for targeting hemoglobin and melanin.
Advantages of AcuTip 500
First light-based system to offer a targeted contact tip - 6.35mm in diameter - ideal size for tracing small vessels
Suitable for facial telangiectasia, freckles, pigmented lesions, angiomas
Unobstructed view of treatment area
Ergonomic handpiece design to minimize user fatigue
---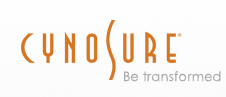 Cynergy™
Powered by our advanced MultiPlex™ technology, the Cynergy Vascular Workstation treats all types of vascular and pigmented lesions more effectively than conventional, single-wavelength technology, including: facial and leg telangiectasias; spider veins; hemangiomas; mature and blebbed portwine stains and other vascular malformations; rosacea; scars; and warts.
The Cynosure PL™ is a compact, portable, pulsed light module that operates independently from the Cynergy so you can easily expand your treatment options at any location. Cynosure PL is ideal for treating sun-damaged skin, dyschromia, pigmented lesions and the blush of rosacea.
Cynergy treats vascular lesions with unsurpassed efficacy and minimal side effects. That's because our revolutionary MultiPlex technology enables the sequential emission of two wavelengths from the same delivery system - a high-powered pulse-dye laser and a 1064-nm long pulse Nd:YAG laser.
Both wavelengths are ideal for performing vascular-related applications. The pulse-dye laser is the "gold standard" for targeting vascular lesions such as portwine stains, as well as smaller red vessels, scars and rosacea. Likewise, the Nd:YAG laser is particularly effective at treating larger facial and leg veins.
MultiPlex's sequential dual-wavelength technology has been proven more efficacious than single-wavelength technology because it allows you to develop client-specific treatment options - including customizing the time delay between wavelength delivery.
The sub-purpuric, pulse-dye laser converts oxy-hemoglobin to methemoglobin and micro-clots-increasing absorption of the Nd:YAG wavelength by 300 to 500 percent and thereby enabling reduced Nd:YAG fluence for enhanced client safety. In addition, since greater penetration depth is achieved, outcome results are optimized.
Since Cynergy's versatility ensures optimal treatment parameters, clients experience fewer side effects. In fact, Cynergy virtually eliminates purpura - a bruising typically associated with older pulse-dye lasers - as well as dramatically reduces the risk of scarring.
By emitting dual wavelengths, Cynergy provides safe and effective results in less time than single-wavelength systems. For your clients, that means greater comfort and satisfaction; for you, that means greater client throughput.
Disclaimer: References or links to other sites from Wellness.com does not constitute recommendation or endorsement by Wellness.com. We bear no responsibility for the content of websites other than Wellness.com.