Wellness Dimensions
Each individual needs a dynamic balance of multidimensional health and methods to move us closer to wellness amidst the myriad of life situations, uncertainty, struggles, goals and hardships.

Multi-dimensional balance is not an objective in itself, as a more positive impact would be likely from discovering where severe imbalances might be a problem and when imbalances may be necessary at different times.

A college student, a new mother or an entrepreneur may not be able to afford pursuing a balance of social or physical potential for some time.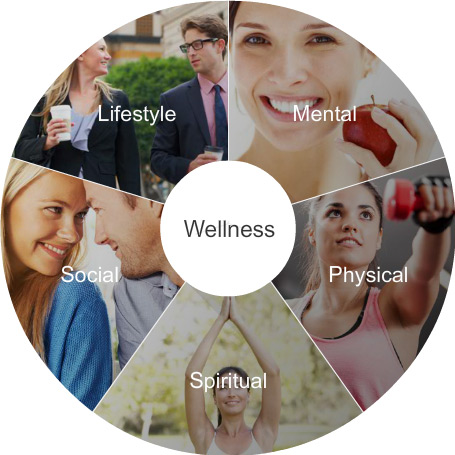 Embed This Image »
The primary top-level dimensions of wellness are: mental, physical, spiritual, social and lifestyle. Each primary dimension of wellness includes multiple sub-dimensions:
Mental Wellness Dimensions
Philosophy
Learning Aptitude
Knowledge
Learn More about Mental Wellness Dimensions »
Physical Wellness Dimensions
Physical Health
Physical Fitness
Physical Appearance
Learn More about Physical Wellness Dimensions »
Spiritual Wellness Dimensions
Life Purpose
Innate Gifts/Talents
Spirituality
Learn More about Spiritual Wellness Dimensions »
Social Wellness Dimensions
Relationships
Community
Environmental
Learn More about Social Wellness Dimensions »
Lifestyle Wellness Dimensions
Learn More about Lifestyle Wellness Dimensions »