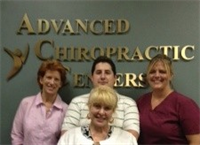 Nearby Specialists - Call Now sponsored
About Dr. Victoria TUTAK, D.C. Psy.D., Owner
We are a full-service Chiropractic office that is dedicated to ensure optimal health for all our Patients!
Accidents, and personal injuries as well as chronic problems osteoarthritis, spinal, hip, joints disorders including peripheral neuropathy and more.

"Our mission at ADVANCED CHIROPRACTIC CENTERS is to educate and treat our patients towards Optimal Health through natural and specific Chiropractic Care!" One Patient At A Time.

We believe in a culture of comfort and we will tailor your program of treatment to your specific needs. We are a "Results-Driven" office, devoted to giving you the best care possible.




Primary Specialty
Chiropractor
Practice Advanced Chiropractic Centers
Gender Female
Services 1. MANIPULATIVE THERAPY: We utilize a wide variety of techniques including activator, soft tissue and Chiropractic Bio-Physics. Chiropractic Bio-Physics technique emphasizes optimal posture and spinal alignment as the primary goals of chiropractic care. Simultaneously documenting improvements in pain and functional based outcome. through Muscular Skeletal rehabilitation and re-education facilitating the body in correcting the imbalances that causes "Dis-ease" that can result in "Disease." We also treat a wide range of joint disorders including wrist problems, carpal tunnel ,shoulder, rotatory cuff, knee, ankle and foot problems.

2. SOFT TISSUE/DEEP TISSUE THERAPY: Treatments used to address ligaments, tendon and connective tissue components of pain.

3. PHYSIOTHERAPY: Restoration of movement, function and pain relief through a wide verity of therapeutic state of the art therapies, including ultrasound, electrical-muscular stimulation therapy, inversion/decompression and traction. In combination provide pain relief and nerve stimulation.

4. EXERCISE AND POSTURE: Patients treatments are individually tailored to optimize function, spinal as well as wrist, shoulder, knee and foot joint stability and performance.
Consumer Feedback
View All

2

Reviews
Add a Review
Recent Polls
Did this provider give the impression that they cared about your concerns?
Yes
Did this provider seem up-to-date with the current advancements in their field?
Yes, they were informing me of new advancements that were extremely recent
by
Anonymous
xxx.xxx.97.104
May 04, 2013
Add a Review