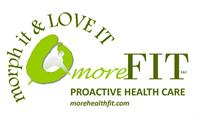 About Maryla Radziszewski, LMT, CPT, Owner
Maryla Radziszewski provides professional, relaxing, and therapeutic massages in East Haddam, CT at moreFIT LLC Proactive Health Care. Maryla strive to help clients reduce pain and stiffness, increase flexibility, increase blood flow, and just de-stress from their busy day. She offers a wide array of services including Swedish massage, deep tissue, sports massage, pain management, and myofascial release. Maryla tailors each massage to fit the unique need and goals of each client. As a top massage therapist in East Haddam, CT, Maryla Radziszewski stay current on the latest therapeutic techniques that will promote better balance and health in client's lives. Whether a client needs targeted work or just a relaxing time to unwind, moreFIT LLC Proactive Health Care provides professional massages that will help them feel revived and renewed.

For the best massage in East Haddam, CT please call Maryla Radziszewski at moreFIT LLC Proactive Health Care today to schedule an appointment.

Primary Specialty
Massage Therapist
Practice moreFIT LLC Proactive Health Care
Gender Female
Years In Practice 6
Training Connecticut Center for Massage Therapy.
Affiliations AMTA, AMTA CT Sports Team, AMTA CT Community Respond Team
Services Maryla Radziszewski is dedicated to helping her clients reach their ideal health and fitness goals through therapeutic treatments and massage in East Haddam, CT. Over years of experience as a massage therapist, Maryla has honed her skills in a wide array of techniques and therapies. Her massage therapy has an emphasis on myofascial release, posture alignments, deep tissue, and sports massage. Many clients have experienced relief from their back and neck pain, headaches, carpal tunnel, tension, and more. moreFIT LLC Proactive Health Care also offers personal training and nutritional consulting to help clients get healthier and fit faster. Visit the website today to learn more and call (860) 873-1866 to make an appointment.


Consumer Feedback
View all

2

Reviews
Add a Review
Recent Reviews
They made sure every single question I had was answered, and are always available if I think of any more questions I want answered. Their staff is the most friendly, welcoming staff I've ever dealt with. They are so warm and professional, and make the whole experience that much better. I was so impressed with the progress I was able to make after visiting them. All my questions were answered, and I feel a lot more confident and hopeful about the future. The office was easy enough to find.
by
Anonymous
XXX.XXX.97.201
June 02, 2012
I loved that they just let me take a nap and relax during my massage, and didn't constantly try to make conversation. I got a massage to relax, and I appreciated that they let me do that. I felt that they really valued my health and happiness because they followed up even after my appointment just to check up on me. It was such a nice gesture that made a huge difference. There's been times where I've gotten a massage, and the whole massage was ruined because they had very calloused hands. I was so glad that I didn't have to worry about that here. They had very smooth hands, which made the whole massage even more enjoyable.
by
Anonymous
XXX.XXX.239.78
November 16, 2011