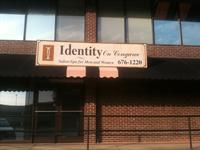 About Identity On Congaree
Identity On Congaree is a Salon facility at 443 Congaree Road in Greenville, SC.
Primary Specialty
Salon
Practice Identity On Congaree
Services Identity On Congaree is a salon in Greenville, SC 29607.

Salons like Identity On Congaree offer services that often include haircuts, nails services, waxing, manicures and pedicures.

Contact Identity On Congaree and discus your beauty needs or stop by at 443 Congaree Road, Greenville, SC 29607. For a description of services offered, call Identity On Congaree at (864) 676-1220
Additional Services
Consumer Feedback
View all

59

Reviews
Add a Review
Recent Reviews
I had the worst experience I've ever had at any salon! This was the first time I'd been here and I chose it based on the stylist's website that claimed she knew color well. She boasted of 20 years experience. I started out blonde & we decided to color it. The stylist showed me a swatch of hair and we decided on the color, which was a light brown. It came out EXTREMELY dark and looked black underneath. She threw a few quick highlights in and gave me a quick shoddy haircut with horrible layers. And she was on to the next customer. I went home looking like I had on a wig, the color was horrible with my skin, and my haircut was bad. I ended up at another salon in town and had to pay to have the mess fixed. The stylist that fixed me couldn't even figure out what' Identity' was trying to do and said my hair was 1 inch longer on one side. This all sounds like exaggeration...it's not at all. I had to completely have my color stripped and hair cut by someone who truly knows hair. Since I'm not going to lump all of Identity staff into this review, I have to name names....I wouldn't suggest going to Karla. I don't want this to happen to anyone else. The staff was nice, but that's really irrelevant if you leave having bad hair.

by
not satisfied
XXX.XXX.105.65
June 21, 2014
by
Anonymous
XXX.XXX.153.131
June 09, 2014
by
Anonymous
XXX.XXX.186.218
May 21, 2014