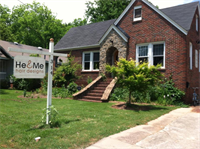 About He and ME Hair Designs
He & Me Hair Designs has been in business for 30 years. Owner David Roop is well known around Greenville in many venues. He is a master hair stylist and art collector. Sarah Roop, Jill Bost and Terry Gerics are also master stylists at He & Me. We also have a licensed esthetician on staff, Tonya Morris.

Primary Specialty
Salon
Practice He and ME Hair Designs
Services Haircut and Style 45+
Mens cut 22
Blowout 25+
Full Highlight 80+
Partial Highlight 60+
Color 60+
Specialty color including Baliage , Ombre 75+
Glossing Treatment 15+
Surface protein treatment 250+
(includes haircut)
*3 levels of smoothing : Reduce Frizz , Reduce curl, and Make it Straight

Skin menu

Microdermabrasion Facial $130.00 Microdermabrasion treatments are a non-surgical way to freshen and rejuvenate the skin on your face. Microdermabrasion is used to treat light scarring, discoloration and sun damage, and can be used to lessen the appearance of stretch marks and fine lines. The technique also helps to build your collagen, which results in a young and smooth complexion. Collagen is a protein that strengthens and should makeup 70% your skins natural structure. Collagen production declines naturally as we age, where rebuilding with microdermabrasion rebuilds that fullness.
*This services includes a full customized facial

Back Facial $85.00
A back facial is a skin treatment which is formulated specifically for the back. Back facials utilize many of the techniques used in skin treatments for the face, and they are supposed to clarify and soften the skin of the back while providing a deep moisturizing treatment which will leave the client with a healthy, glowing back.


Customized Basic Facial $85.00
Restore healthy balance to your skin with a customized facial geared to address your own individual skin care concerns.

Correction Facial $130.00
Correction and healing are the cornerstone of this highly efficient treatment that deals with the issues of acne ,hyper-pigmentation and other skin problems of all ages. May incorporate galvanic and high frequency therapy and/or resurfacing.

Paraffin Facial $130
Incorporated into our customized basic facial your esthetician applies a moisturizing treatment and then coats the skin with warm paraffin which is left on the face for 10 to 15 minutes. The paraffin's warmth causes the pores to open, allowing moisturizers to penetrate more easily. When removed, the paraffin takes old skin cells with it, leaving the skin silky smooth.


Express Facial $65
An Express Facial will revitalize your skins radiance, leaving it healthy ,cleansed and toned. Perfect for a lunchtime treatment.


Aroma Glow Body Polish $85.00

This indulgent scrub will restore your senses and recondition your skin. An aromatic body polish is applied, quenching the skin with a blend of passion fruit and botanical extracts, removing dead skin cells as it moisturizes your epidermis. After a hot towel removal the entire body is then massaged with a moisturizing body butter.

Body Bronzing Treatment $130.00

This treatment, perfect for any season, starts with our unique Aroma Glow Body Polish. Next, a tanning solution quickly darkens the skin in 6–9 hours, leaving you sun-kissed and beautifully bronzed. This lotion comes with a built-in color guide that allows you to see exactly where you're applying it. So No pale patches. No streaks. No dark spots.

Just a Little Color $60.00

This is a quicker version of the Body Bronzing Treatment, focusing just on your legs, arms, face and decollate.



Hand and Foot Treatment $55.00
Starting with an Aroma Glow Polish of the hands and feet we then pamper them with hot towels. After, you get to relax while a warmed aroma-therapeutic paraffin treatment takes you off into another world. Finishing with a hand and foot massage this is a sensory experience which promises to leave you walking on cloud 9
Lash and Brow Tint $25 each or 40 for both


Accentuate your eyes and frame your face by tinting your lashes and\or brows.  Eyebrow and Lash Tinting is great if you have recently changed your hair color or would like to simply accentuate the color you were born with. This simple procedure will make your best features stand out. Lasts 4 to 6 weeks and is only a 15 minute service.



Manual Lymphatic Massage $85
Manual lymph drainage massage is a form of very light massage that encourages lymph flow in the body.It is particularly good for detoxification and edema. It can also help with cellulite treatments, scar tissue, spider veins, redness and acne.

Waxing Services

face :
all facial waxing can include high frequency currents to prevent skinreaction, just ask !

Brow 15
Lip 15
Chin 15
Cheek 15
Nose 20

1/2 arm 25
full arm 35
under arm 20
1/2 leg 45
full leg 65
bikini 35
French Bikini 55
Brazilian 65
Shoulders 25
Stomach 25
Back 50
Chest 50
Derrier 20
manscape 2
Consumer Feedback
View All

4

Reviews
Add a Review
Recent Reviews
Sarah was fantastic. I am still getting compliments 2 months after seeing her for a cut/highlights.
Recent Polls
Was this provider willing to stay open late to accomodate your needs?
Yes, they've stayed open late when I've needed help
by
Anonymous
xxx.xxx.21.7
February 19, 2013
Did this provider answer all of your questions?
Every question I had was answered thoroughly
by
Anonymous
xxx.xxx.88.101
March 09, 2012
Add a Review