James Pickens, DMD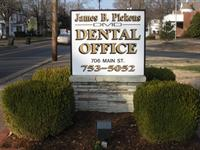 James B. Pickens DMD
706 Main Street
Murray, KY 42071
About
James Pickens, DMD
We would be thrilled to welcome you to our dental practice and would appreciate the opportunity to take care of you and your family.

Offering IV Sedation!
Primary Specialty
Dentist
Practice
James B. Pickens DMD
Services
James Pickens, DMD is a dentist/dental office located in Murray, KY 42071. A dentist is trained to diagnose, treat, and prevent diseases of the gums, teeth, and jaw.

Please call James Pickens, DMD at (270) 753-5052 to schedule an appointment in Murray, KY or get more information.
Consumer Feedback
View All Reviews
Add a Review
Recent Reviews
I don't think I have ever been put on hold here for a long time and am so impressed with how quickly all of my questions are answered. There's nothing wo... Read more
by
latrica knight
XXX.XXX.175.198
January 09, 2012