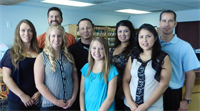 About Tim Thompson, DC
Our office focuses on providing patients with a holistic and preventative healthcare through drug-free pain relief methods. Our chiropractors, Dr. Tim Thompson & Dr. Kenneth Delp, work 6 days a week in order to serve a greater number of patients at their convenience. Dr. Thompson has been in practice since 2001 and practices both manual and activator chiropractic depending on the needs of his patients. Dr. Delp joined the practice in 2012 and with his experience has been a valuable asset to the practice. John Moore, our acupuncturist, is also an herbalist who expertly prescribes Chinese herbal medicine to his patients as needed. We also have two wonderful massage therapists, Mariela Macias & Emma Clark, who work Monday-Saturday days and evenings. Our goal is to serve our patients to the best of our ability through natural healthcare. So if you have questions regarding Chiropractic, Acupuncture or Massage care or would like to schedule an appointment, please do not hesitate to call us at (509) 786-3637; we love to help!
Primary Specialty
Chiropractor
Practice Thompson Chiropractic, Acupuncture & Massage
Gender Male
Services Tim Thompson, DC practices at 1209 Meade Ave, Prosser, WA 99350. Chiropractors diagnose and treat common spinal misalignments that can occur from lifestyle or injuries causing pain, discomfort and degenerative conditions.

Tim Thompson, DC may be able to treat; back pain, sciatica, neck pain, shoulder pain, headaches, sports injuries, and auto accident injuries.

To learn more, or to make an appointment with Tim Thompson, DC in Prosser, WA, please call (509) 786-3637 for more information.
Additional Services Acupuncture & Massage
Consumer Feedback
View All

2

Reviews
Add a Review
Recent Polls
Did this provider exaggerate his/her or abilities?
No, I got what was promised
by
Anonymous
xxx.xxx.211.130
July 29, 2014
Does this provider remember you by name?
Never, they can't even remember throughout my appointment
by
Anonymous
xxx.xxx.43.51
September 24, 2013
Add a Review