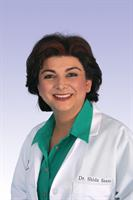 About Shida Saam, DO
Shida Saam practices as an internist in Irvine, California (CA). Dr. Saam provides both traditional and alternative medicine at her family practice, and can help patients with a wide range of health conditions. Some of the issues she specializes in include colon cancer, heart disease, obesity and diabetes. Dr. Saam strives to help her patients maintain optimal health by developing trusting relationships with them and encouraging them to participate in the treatment process. Dr. Saam is committed to patient satisfaction and to providing her patients with the highest level of care from the inside out.

If seeking an internist in Irvine, CA who practices alternative and traditional medicine, please call the offices of Dr. Shida Saam to schedule an appointment, or visit her website for more information.

Primary Specialty
Internist
Practice Dr. Shida Saam
Gender Female
Years In Practice 20
Education Western University of Health Sciences
Training Residency, UC Irvine Family Practice program
Certification Board Certified in Family Practice and Geriatrics
Payment Options Most Insurances Accepted

HMO, PPO and Medicare

IPAs: St. Joseph Affilated, Prospect Medical Group and Monarch Health Care
Services As a leading internist in Irvine, California (CA), Dr. Shida Saam specializes in family practice and preventive medicine in a safe and comfortable environment. Dr. Saam offers both traditional internal medicine and alternative medicine, and can help with a wide array of common issues, such as obesity problems, diabetes, heart disease and colon cancer. Some of the other services she provides include cancer prevention, weight management, vitamin therapy, Botox, geriatrics and natural hormones. Dr. Saam can help individuals who want to manage their weight by showing them how to improve eating habits and utilize mineral supplements.

For an experienced internist in Irvine, CA who offers bio-identical hormones, vitamin therapy, weight management and more, please call the family practice of Dr. Shida Saam and set up an appointment today.

Consumer Feedback
View All

7

Reviews
Add a Review
Recent Reviews
Dr. Saam is professional and knowledgeable also very friendly. She is an excellent Doctor. I have always found the staff polite and helpful. Best service I,Ve received. I would recommend Dr. Saam to a
by
Heli Farjami
xxx.xxx.172.225
April 30, 2016
I think dr Sam she is the best . She made me feel comfortable to talk about all my problems without any awkward feeling . She is kind and knowledgeable and sincere . She is a five star all around
by
Mehran
xxx.xxx.105.192
June 29, 2015
Recent Polls
Did a staff member acknowledge or greet you when you entered?
Immediately! They gave me a friendly greeting as soon as I walked in
by
Anonymous
xxx.xxx.7.98
February 05, 2014
Did this provider answer all of your questions?
Every question I had was answered thoroughly
by
Anonymous
xxx.xxx.23.111
August 28, 2012
Add a Review