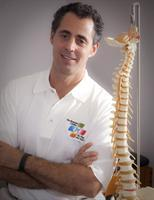 Nearby Specialists - Call Now sponsored
About Jeff Hazim, D.C.
If you just want to find someone you can trust, someone who will really care about you, a doctor with all the available modern technology, yet offered with old-fashioned, doctor-who-makes-house-calls compassion, who will love you like a friend and not treat you like a number, then give us a call. If you want to heal, restore your vitality, and experience a true sense of well being, the way you are treated is just as important as what we do to treat you. In all regards, this office would be the best choice.
.
So, if you are in pain, sick, suffering or frightened, we can help you. We will always have time for you, listen to you, explain things so you can understand, and most importantly offer hope. We have over 20 years of experience treating all types of pain from injuries, accidents, and chronic conditions (disorders). Please feel free to call us. We would be honored to have the opportunity to help you.
.
Dr, Jeff Hazim
Chiropractor

Primary Specialty
Chiropractor
Practice The Broward Center for Pain & Injury
Years In Practice 23
Services Chiropractic Care
Massage
Non-Surgical Spinal Decompression
Cold Laser Therapy
Ultrasound
EMS
Nutritional Consultations
Zyto Nutritional Scan
Nutraceuticals specific for you; at a cellular leverl
Additional Services Scientific Nutrition
Consumer Feedback
View All

6

Reviews
Add a Review
Recent Reviews
The office was easy enough to find. I was worried that they were going to wear an obnoxious cologne, because I've dealt with that at other places, but they didn't even wear cologne. It was fantastic
by
patient, wife & mother of patients
xxx.xxx.109.213
December 14, 2013
Recent Polls
Does this provider maintain a professional appearance?
Yes, he/she looked very professional
by
Anonymous
xxx.xxx.224.226
November 05, 2013
Were the restrooms well-stocked at this provider's office?
Yes, they were well-stocked
by
Anonymous
xxx.xxx.181.175
October 10, 2013
Add a Review