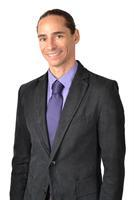 Nearby Specialists - Call Now sponsored
About Aaron Root, D.C., D.A.C.N.B.
Functional Neurology specialty practice, integrating chiroprpactic, neurology, acupuncture, herbal medicine, nutrition, laboratory studies, dizziness/vertigo, sports injuries and musicians and performing artists injuries and health issues, neurological rehabilitation post-stroke and brain injury
Primary Specialty
Chiropractor
Practice Functional Neurology & Wellness Center
Gender Male
Years In Practice 18
Services Aaron Root, D.C., D.A.C.N.B. practices at 11118 Wurzbach Rd Suite 203, San Antonio, TX 78230. Chiropractors diagnose and treat common spinal misalignments that can occur from lifestyle or injuries causing pain, discomfort and degenerative conditions.

Aaron Root, D.C., D.A.C.N.B. may be able to treat; back pain, sciatica, neck pain, shoulder pain, headaches, sports injuries, and auto accident injuries.

To learn more, or to make an appointment with Aaron Root, D.C., D.A.C.N.B. in San Antonio, TX, please call (210) 690-1333 for more information.
Additional Services Neurology, Acupuncture, Botanical Medicine, Functional Medicine, Functional Neurology
Consumer Feedback
View All

41

Reviews
Add a Review
Recent Polls
Are you confident that this provider will continue working with you until a solution is reached?
Absolutely! I'm confident they will work hard to find the best solution for me
by
Anonymous
xxx.xxx.21.41
February 03, 2014
Was this provider's office too loud?
Not at all, it was very peaceful and quiet
by
Anonymous
xxx.xxx.77.46
October 14, 2013
Add a Review