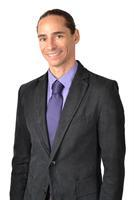 More Nearby
About Aaron Root, D.C., D.A.C.N.B.
Functional Neurology specialty practice, integrating chiroprpactic, neurology, acupuncture, herbal medicine, nutrition, laboratory studies, dizziness/vertigo, sports injuries and musicians and performing artists injuries and health issues, neurological rehabilitation post-stroke and brain injury
Primary Specialty
Chiropractor
Practice Functional Neurology & Wellness Center
Gender Male
Years In Practice 16
Services Aaron Root, D.C., D.A.C.N.B. practices at 11118 Wurzbach Rd Suite 203, San Antonio, TX 78230. Chiropractors diagnose and treat common spinal misalignments that can occur from lifestyle or injuries causing pain, discomfort and degenerative conditions.

Aaron Root, D.C., D.A.C.N.B. may be able to treat; back pain, sciatica, neck pain, shoulder pain, headaches, sports injuries, and auto accident injuries.

To learn more, or to make an appointment with Aaron Root, D.C., D.A.C.N.B. in San Antonio, TX, please call (210) 690-1333 for more information.
Additional Services Neurology, Acupuncture, Botanical Medicine, Functional Medicine, Functional Neurology
Consumer Feedback
View all

41

Reviews
Add a Review
Recent Reviews
The first time I saw doctor root, I was 16 and a serious dancer. I am now 29 and a Yoga instructor. He has helped me through issues with shin splints, tendonitis of my hip flexors, acid reflux disease, and shoulder impingement. He has helped me retain my love of running, dance, and yoga, by showing me more effective ways of movement. He is not only a great doctor, but a wise holistic practitioner, and a friendly and helpful person. I would recommend him to anyone, especially those who have gone the traditional route to no avail. He changed the way I think of medicine.
He is ahead of his time and San Antonio is lucky to have him, (and his brother).
I always feel much better after my appointment. My pain was greatly reduced. They made sure every single question I had was answered, and are always available if I think of any more questions I want answered. They are so warm and professional, and make the whole experience that much better. I
Dr Root is gentle and conservative and literally has a gift in diagnosing difficult issues. He is honest, if he cant help you, he will refer you out.

by
E rosenblum
XXX.XXX.53.82
April 27, 2012
Dr. Aaron Root is awesome and honest!