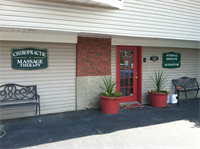 Nearby Specialists - Call Now sponsored
About Michael Guerriere, D.C.
Guerriere Family Chiropractic encompasses a variety of modalities to help any individual obtain their optimal health. Offering Acupuncture and Herbal Medicine by Zuhui Xu L. AC., Pain Management by Dr. Walaa Housny, Psychotherapy by Sharon Klein, LCSW, Massage Therapy by Denise Grandville, LMT and Morgan Dillon MT, and Chiropractic by Michael Guerriere, DC PC. "Helping People to Achieve Their True Potential"
Primary Specialty
Chiropractor
Practice Guerriere Family Chiropractic
Years In Practice 25
Services Michael Guerriere, D.C. practices at 3209 Milburn Ave, Baldwin, NY 11510. Chiropractors diagnose and treat common spinal misalignments that can occur from lifestyle or injuries causing pain, discomfort and degenerative conditions.

Michael Guerriere, D.C. may be able to treat; back pain, sciatica, neck pain, shoulder pain, headaches, sports injuries, and auto accident injuries.

To learn more, or to make an appointment with Michael Guerriere, D.C. in Baldwin, NY, please call (516) 623-5900 for more information.
Additional Services Acupuncture, Massage Therapy,Psychotherapy, Internal Medicine
Consumer Feedback
View All

16

Reviews
Add a Review
Recent Reviews
Not only is he an amazing individual but he is an amazing chiropractor as well
He has an amazing bedside manner and he makes you feel very comfortable while doing procedures to relieve your pain and
by
Joanie Barone
xxx.xxx.5.100
October 24, 2014
Recent Polls
Did this provider pressure you to purchase any unnecessary products during your visit?
No, my decisions were always respected
by
Anonymous
xxx.xxx.109.122
November 16, 2013
Was this provider willing to stay open late to accomodate your needs?
Definitely! They would never turn away anyone in need
by
Lesley Stavola
xxx.xxx.76.236
September 18, 2013
Add a Review