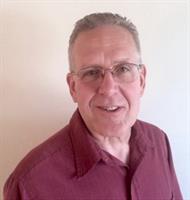 Nearby Specialists - Call Now sponsored
About Kevin Freebern, D.C.
I was working at John Deere in 1977, back when they offered incredible health care coverage. My life changed when I was involved in a major rear end collision. This was the start of my four and a half month journey through the mainstream medical system. Beginning with a visit to my family doctor, who then a referral me to an orthopedic doctor, who then referred me to a neurologist who then referred me to a physical therapist. During this time, I was experiencing nearly constant, moderate to severe headaches and episodes of arm numbness. The big deal- I couldn't sleep for more than a few hours at a time. Over this timeI had taken 12-13 different prescriptions with little to no relief.

I was becoming miserably unbearable to those around me. My girlfriend, now wife, Wendy, said go to this chiropractor, he really helped me. Out of desperation I went. After he adjusted my neck, I felt the most amazing relief! I actually slept 8 to 9 hours and woke up feeling alive! This passionate relatively new chiropractor helped me to understand that my body had healed up badly. Explaining that my body did the best it could to get used to the state it was in. I continued to get chiropractic care from him and over time got to know him better . Seeing his energy and commitment, and personally experiencing the healing power of chiropractic care inspired me. I thought this is what I want to do - help people out of pain. He told me when I get through chiropractic school, come back and we can work together. So that's what I did, graduating from Palmer College of Chiropractic on June 14, 1985.

Chiropractors are required to complete a minimum of 50 hours per year of continuing education. Over the years I have studied with internationally recognized Extremity Specialist Dr. Mitch Mally, Founder/ Developer of the International Academy of Advanced Chiropractic Orthopedics (Courses of advanced instruction of the diagnosis, treatment and rehabilitation of the extremities).

I have been a chiropractor for over 30 years and still find it gratifying to help people out of their pain. Perhaps even more exciting though is watching people reach higher levels of performance and wellbeing through receiving regular chiropractic adjustments.

"We treat the Patient, not just the Pain"
Dr. Kevin Freebern DC




Primary Specialty
Chiropractor
Practice Freebern Chiropractic
Gender Male
Years In Practice 16
Services Kevin Freebern, D.C. practices at 918 16th Ave, East Moline, IL 61244. Chiropractors diagnose and treat common spinal misalignments that can occur from lifestyle or injuries causing pain, discomfort and degenerative conditions.

Kevin Freebern, D.C. may be able to treat; back pain, sciatica, neck pain, shoulder pain, headaches, sports injuries, and auto accident injuries.

To learn more, or to make an appointment with Kevin Freebern, D.C. in East Moline, IL, please call (309) 752-0750 for more information.
Additional Services Extremities, Sports, Wellness
Consumer Feedback
View All

3

Reviews
Add a Review
Recent Polls
Was this provider late to your appointments?
No, they were on time
Did this chiropractor use current and safe equipment?
Yes
by
Anonymous
xxx.xxx.155.171
September 24, 2013
Add a Review