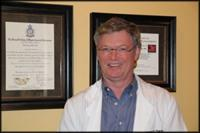 About James Thacker, MD
Huntsville Pain Management is a multidisciplinary group of professionals committed to the compassionate understanding of patients in pain and to the scientific assessment, diagnosis and treatment of pain related disorders. Led by James Thacker MD with 25 years of experience, our Board Certified Pain Medicine physicians specialize in minimally invasive treatment of mechanical, discogenic and neuropathic conditions of the spine.

It is our commitment to provide the best treatment available anywhere. We use state-of-the art diagnostic and therapeutic techniques. This approach, combined with behavioral medicine treatment allows us to return patients to their optimum functional ability.

Some procedures can me done inoffice in our state of the art procedure sutie, This allows some patients to be treated on site, in quiet, relaxed surroundings. Some procedures may need to be performed at local hospitals or surgery centers.

The services provided by Huntsville Pain Management will relieve suffering for the patient and will result in considerable cost savings to the patient, employer, and insurance carrier.

Our goals:
1. To work with Your cute and chronic pain.
2. To identify and understand Your causes of pain
3. To advance methods for reducing or eliminating Your pain.
4. To help YOU return to more normal lfe.
Primary Specialty
Pain Management Specialist
Practice Huntsville Pain Management
Gender Male
Services Huntsville Pain Management provides pain management in Huntsville, AL. A Pain Management Specialist is a physician who has four extra years learning anesthesiology and pain medicine to help patients with pain management.

Please call James Thacker, MD at (256) 539-1000 to schedule an appointment in Huntsville, AL or to get more information.
Consumer Feedback
View All

11

Reviews
Add a Review
Recent Reviews
After one visit to this office, I was taken by ambulance to hospital due to anxiety one day before my 2nd apt. to Dr. Thacker. Upon Hospital release, I c... Read more
Recent Polls
Did you leave the office feeling satisfied with your visit?
Completely!
by
Anonymous
XXX.XXX.67.36
September 30, 2014