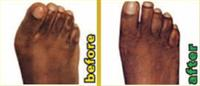 About Edward Cohen, DPM
Edward Cohen, DPM practices as a podiatrist near Slidell, Louisiana (LA) specializing in minimally invasive bunion surgery. Dr. Cohen is able to treat a wide range of foot and ankle problems using the most current equipment and methodology. With over 34 years of experience as a podiatrist near Slidell, LA, Dr. Cohen has helped many individuals recover from foot pain, diabetic and non-diabetic foot NEUROPATHY, and other podiatric health concerns. In addition to his private practice, Dr. Cohen is the VP of the Academy of Ambulatory Foot and Ankle Surgery and is the Scientific Chairman of 2012. The mission of the AAFAS, of which Dr. Cohen has been a member of for 34 years, is to provide continuing medical education courses to both the medical community and general public. Dr. Cohen is committed to helping his patients regain mobility as quickly as possible using MINIMALLY INVASIVE FOOT SURGERY and other state-of-the-art technology.

If seeking MINIMALLY INVASIVE FOOT SURGERY near Slidell, LA, please contact the offices of Dr. Edward Cohen to schedule an appointment, or visit his website for further details. Dr. Cohen's office is located at 12056 Mobile Ave. in Gulfport, MS 39503.
Primary Specialty
Podiatrist
Gender Male
Years In Practice 36
Education University of Maryland, BS Biochemistry

DPM, Temple University School of Podiatric Medicine

Affiliations Forrest General Hospital

Academy of Ambulatory Foot Surgery
Certification Board Certified in Surgery, The American Board of Multiple Specialties
Services Dr. Edward Cohen, top podiatrist near Slidell, Louisiana (LA), is able to offer a variety of podiatric services for patients of all ages. He can help with foot pain, ankle pain, diabetic and non-diabetic foot NEUROPATHY, ingrown toenails, bunions and plantar fasciitis among other conditions. Dr. Cohen offers minimally invasive bunion surgery and other foot surgery in-office so that his patients never have to worry about spending unnecessary money on facility fees. His patients are able to save thousands of dollars by receiving this procedure, which uses very small incisions, on-site at Dr. Cohen's office, as well as experience less pain and recovery time. Dr. Cohen is additionally able to provide braces for medical conditions that cause gait instability or pain from ambulation as well as orthotics.

For a podiatrist near Slidell, LA who is able to treat hammertoes, warts, corns and many other foot and ankle conditions, please call Dr. Edward Cohen at (228) 834-4475 and set up an appointment today.

Consumer Feedback
View All

2

Reviews
Add a Review
Recent Reviews
I had bunyan surgery in Dr. Cohens office as an out patient and I've been very pleased with the results. It's been 5 weeks I'm feeling good and it looks great. Doc comes highly recommend.
Wornett Hart
Picayune MS.
by
Wornett
XXX.XXX.98.143
February 27, 2012
After having a lot of pain in my feet and heels, Dr. Cohen quickly diagnosed my tarsal tunnel syndrome, gave me injections and some arch pads, and I was all done, with all the pain and inflammation from my feet and heels gone. There wasn't a hassle, the staff was very nice and helpful, I didn't have to wait long, and I would definitely recommend Dr. Cohen to anyone with any feet issues.