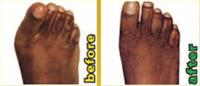 About Edward Cohen, DPM
Edward Cohen practices as a podiatrist in Hattiesburg, Mississippi (MS). Dr. Cohen specializes in treating foot pain and both diabetic and non-diabetic foot NEUROPATHY, and has extensive experience performing MINIMALLY INVASIVE FOOT SURGERY and minimally invasive bunion surgery. He has available the latest treatment in diabetic and non-diabetic NEUROPATHY (foot-based) with no drugs.In addition to practicing as a podiatrist in Hattiesburg, MS, Dr. Cohen is the VP of the Academy of Ambulatory Foot and Ankle Surgery as well as the Scientific Chairman of 2012. Dr. Cohen has been a member of the AAFAS for 34 years, and is committed to their mission of providing continuing medical education to both the medical community and the general public. Dr. Cohen stays at the forefront of his field by regularly attending medical conferences and by using the most state-of-the-art technology at his practice. Whether a patient is suffering from an ingrown toenail, bunion, crooked toe or heel spur, Dr. Cohen is able to provide them with the highest quality care.

For an experienced podiatrist in Hattiesburg, MS who specializes in minimally invasive bunion surgery, please call the offices of Dr. Edward Cohen at (601) 582-7673 and schedule an appointment today.

Primary Specialty
Podiatrist
Gender Male
Years In Practice 38
Education University of Maryland, BS Biochemistry

DPM, Temple University School of Podiatric Medicine


Affiliations Forrest General Hospital

Academy of Ambulatory Foot Surgery
Certification Board Certified in Surgery, The American Board of Multiple Specialties
Services As a leading podiatrist in Hattiesburg, Mississippi (MS), Dr. Edward Cohen is able to provide a wide range of services for those suffering from foot pain or other foot and ankle problems. Dr. Cohen performs non-invasive foot and bunion surgery on-site, which saves his patients thousands of dollars on facility fees. Patients generally experience less pain and a faster recovery with this procedure. Dr. Cohen's services include MINIMALLY INVASIVE FOOT SURGERY using Fluoroscan technology, ingrown toenail surgery corrections, treatment for skin and nail problems, orthotics and much more. Some of the symptoms Dr. Cohen can help with include diabetic and non-diabetic foot NEUROPATHY, foot pain, burning or numbness, and trouble walking. Dr. Cohen also specializes in making braces for medical conditions that cause gait instability or pain from ambulation.

For minimally invasive bunion surgery in Hattiesburg, MS, please call the offices of podiatrist Dr. Edward Cohen to schedule an appointment, or visit his website for more information.

Consumer Feedback
View All

15

Reviews
Add a Review
Recent Reviews
After 4 treatments with the pinpoint laser that is used for nail fungus, my nails look the same, if not worse. It is advertised as "hyper blue"; it is NOT. It is a laser treatment which heats the nai
by
charlie m
xxx.xxx.0.123
July 14, 2015
I didn't experience any unnecessary pain during my visit, and I was amazed at how much better I felt after I left. I've already told my friends and family about the fantastic experience I had there.
by
bigman
xxx.xxx.123.198
January 05, 2014
Recent Polls
Does this provider take that extra step to make you feel special?
Yes
by
JessDub
xxx.xxx.47.160
April 18, 2014
Was this provider argumentative or easily angered?
No, they were very calm and understanding
by
Anonymous
xxx.xxx.26.200
January 22, 2014
Add a Review