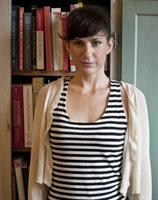 About Coleen De Vol, AADP
Coleen De Vol practices as a nutritionist in Brooklyn, New York (NY). Coleen offers personalized programs for individuals who wish to gain energy, lose weight, clear up digestive issues and learn how to eat healthfully. She strongly believes that her clients can live strong, happy and healthy lives by learning the healing power of foods and by practicing active stress management techniques, exercise and emotional work. With over ten years of experience in the wellness field, Coleen has helped many of her clients achieve their goals by learning how to help themselves.

If seeking a nutritionist in Brooklyn, NY who can help with weight loss, female conditions, fitness and more, please call Coleen De Vol at (646) 552-2556 and schedule a free introductory consultation today.
Primary Specialty
Dietitian - Nutritionist
Practice Coleen De Vol
Gender Female
Years In Practice 11
Education Institute for Integrative Nutrition
Training Institute for Integrative Nutrition
Certification Certified by the American Association of Drugless Practitioners as a Holistic Health Practitioner

Certificate in Integrative Nutrition from the Institute of Integrative Nutrition in conjunction with Columbia University's Teachers College
Services As a leading nutritionist in Brooklyn, New York (NY), Coleen De Vol offers a wide range of services for those who want to achieve their goal weight or make lifestyle changes to enhance their overall health. Coleen specializes in female conditions such as PCOS and PMS, but is able to help anyone who wants to lose weight, stop sugar addiction, manage depression, clear up skin conditions or sleep better. Every client receives a personalized wellness program that will teach them how to set goals, deal with cravings, integrate healthier foods into their diet, cultivate a fresh approach to cooking, and much more. Coleen's services include weight loss counseling, menu planning, cooking classes, Green Market Tours and unlimited e-mail support.

For an experienced nutritionist in Brooklyn, NY, please call Coleen De Vol to schedule a consultation, or visit her website for more information.