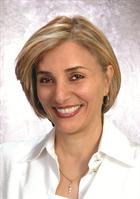 More Nearby
About Homa Shahriari, DDS
Homa Shahriari practices as a dentist in Encino, California (CA). Dr. Shahriari offers general and cosmetic dentistry for the whole family in a state-of-the-art dental practice. She is a firm believer in continuing education, and strives to assist every patient in achieving and maintaining long-term dental health and a beautiful smile. With over 25 years of experience as a dentist in Encino, CA, Dr. Shahriari is able to provide dental implants, teeth whitening, periodontal treatments and much more. She uses the most advanced technology to ensure that patients receive the best possible results, and goes out of her way to make their visit as pleasant and comfortable as possible.

For an experienced dentist in Encino, CA who offers porcelain veneers, Invisalign and much more, please call the offices of Dr. Homa Shahriari to make an appointment, or visit her website for more information.
Primary Specialty
Dentist
Practice Homa Shahriari DDS
Gender Female
Years In Practice 28
Affiliations American Dental Association

California Dental Association

San Fernando Valley Dental Society

American Academy of Implant Dentistry
Services At her family-oriented practice, Dr. Homa Shahriari offers a wide and comprehensive list of general, restorative and cosmetic dental services to meet the needs of the entire family. As a skilled cosmetic dentist in Encino, CA, she is able to give her patients the beautiful smiles they desire using the most conservative, state-of-the-art procedures. Some of her cosmetic dentistry services include teeth whitening, tooth-colored fillings, crowns and bridges, porcelain veneers, dental implants and Invisalign. Dr. Shahriari also offers root canal therapy, dentures and partials, extractions and periodontal treatments.

If in need of cosmetic dentistry in Encino, CA, please call Dr. Homa Shahriari at (818) 906-3838 and make an appointment today.

Consumer Feedback
View all Reviews
Add a Review
Recent Reviews
I was given a polite greeting when I walked in. It was nice to be acknowledged. Not only was I able to watch TV during my dental procedure, they had a ton of magazines for me to look through as well. I barely even noticed that my dental procedure was going on because I was fully entertained the entire time. The waiting area here is extremely spacious. There is never overcrowding and everything is spaced appropriately. They made the extra effort to make sure every question and concern I had was addressed. They would never suggest that I buy something that wasn't necessary, and never pressured me. They were always very considerate and professional.