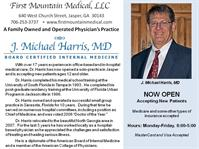 About J. Micheal Harris, MD
With over 17 years experience in office based and in-hospital medical care, Dr. J. Micheal Harris has now opened a practice in Jasper, Georgia: First Mountain Medical. We pride ourselves on providing the individualized care you deserve.
Dr. Harris is available 24/7 for established patients and is the only MD in Pickens County that also provides care while you are in the hospital, when you need him most. He can even accommodate home visits in some cases!
There are many procedures we provide in-house, including some labs, blood draws, nebulizer treatments, and injections.
We offer limited Spanish for those patients whose first language is not English.

Primary Specialty
Internist
Practice First Mountain Medical
Gender Male
Education Dr. Harris completed his medical school training at the University of South Florida in Tampa in 1993. He completed his post-graduate residency training at the University of Florida Urban Program in Jacksonville in 1996.
Staff Dr. Harris owned and operated a successful small group practice in Sarasota, Florida for 10 years. During that time he served on numerous hospital committees, including a position as Chief of Medicine, and he was voted 2006 Doctor of the Year.
Affiliations Pickens County Chamber of Commerce,
American Board of Internal Medicine,
American College of Physicians
Services
Extensive History and Physical Exams, Medicare Physicals, Annual Wellness Visits, Department of Transportation Physicals, Depression Screening, Hospitalized Patient Management, EKGs, Blood Work, Nebulizer Treatments, Diabetes Management, Hypertension & Heart Disease Management, Asthma/COPD Management, Arthritis Management, Treatment for various Skin Conditions, Geriatrics, Digestive Disorders, Advanced Cardiac Life Support Certified, Allergy & Sinus Treatments, Neurologic Preventive Medicine, Nutrition & Weight Control, Appointments within one week or sooner, House calls may be possible at discretion of MD, Information regarding Advanced Directives and assistance with completing forms, Notary services for established patients at no additional charge