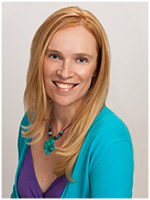 About Mateja Petje, LMFT
Mateja Petje is a Professional Life Coach and a Licensed Marriage and Family Therapist who offers services world-wide, including Cooper City, Florida (FL) at Holistic Coaching International. Mateja used to provide face-to-face services in her office in Cooper City. She relocated to Boca Raton however she still offers affordable coaching and counseling services via Skype, from the comfort of your own home.

Mateja provides a safe, healing environment for her clients to share their concerns and learn how to reach effective, short-term goals. She takes a holistic and humanistic approach to mental health that is based on cognitive-behavioral and solution-focused treatments. While she primarily works with adolescents and adults, Mateja has extensive experience helping children cope with trauma and abuse

In addition to practicing as a Professional Life Coach in Cooper City, FL, Mateja is also a Licensed Marriage and Family Therapist and received her Master's Degree in Marriage and Family Counseling from University of Miami in Coral Gables where she graduated with honors. In addition, she received her training from the Institute for Life Coach Training, an accredited institution.

If you would like to experience a Skype session with a compassionate, insightful counselor/professional life coach in Cooper City, FL, please call Holistic Coaching International and set up an appointment with Mateja Petje today. She offers affordable coaching packages that are customized to client's needs. She is especially sought after by immigrants from other countries, especially Europe where she grew up, and speaks several languages. Please review her testimonials on several listings on this site. Some of her clients continue working with her and followed her to Boca Raton, FL since they have been receiving amazing results as her approach is quite unique.


Primary Specialty
Marriage & Family Therapist
Practice Holistic Coaching International
Gender Female
Education Master of Science in Education, Major Marriage and Family Therapy, University of Miami, Coral Gables, FL
Training Professional Life Coach Training, The Institute for Life Coach Training (Patrick Williams), January 2006
Certification Licensed Marriage and Family Therapist MT 2338

Certified Life Coach
Services Mateja Petje practices as a professional life coach in Cooper City, Florida as well as world-wide. At Holistic Coaching International, Mateja offers life coaching, career coaching, spiritual counseling and stress management, as well as individual and couple therapy via Skype. She incorporates mind-body techniques such as Emotional Freedom Technique (EFT), Hypnosis/Guided Meditation, Neuro-Linguistic Programming, and Energy Medicine. As a leading professional life coach/ counselor in Cooper City, FL, Mateja is able to treat mental health and anxiety disorders as well as traumas such as PTSD. For couples, Mateja uses Imago techniques to help recreate intimacy and romance in the relationship. Her other specialties include life-work balances, women's issues, spirituality and career changes.

If in need of a professional life coach/counselor from the comfort of you own home who offers life coaching, stress management or spiritual counseling, as well as individual and couples therapy, please call Mateja Petje at Holistic Coaching International, or visit her website for more information.
Additional Services Counselor, Professional Life Coach
Consumer Feedback
View all

3

Reviews
Add a Review
Recent Reviews
I was very satisfied with my visit. They were helpful and I left feeling encouraged. They were one of the kindest, most caring staff I've ever dealt with. It didn't matter how many times I called with a question or concern, they were always happy to help me. They have very nice chairs in their waiting room. It was a nice start to my appointment and helped me feel more comfortable and relaxed. Their staff is the most friendly, welcoming staff I've ever dealt with. They are so warm and professional, and make the whole experience that much better. They gave me sufficient information to make a decision about my treatment plan.
by
Fla. Mom
XXX.XXX.233.184
January 10, 2013
They made sure every single question I had was answered, and are always available if I think of any more questions I want answered. Their staff is very friendly and professional. I was so impressed with the progress I was able to make after visiting them. All my questions were answered, and I feel a lot more confident and hopeful about the future.
They've never used foul language, which has bothered me at some of the other places I've been too. They always make an extra effort to be polite and courteous. I love that they are always more than happy to answer my questions, and actually welcome questions. I've felt awkward at some other places I've visited when I've tried to ask a lot of questions, but not here. Their prices were very fair. The level of care you get for the price is outstanding. They are so kind and caring, and they stay open way past their closing time to help anyone who needs them. They wouldn't deny anyone that needed help. I know I can always count on them. They make an extra effort to get to know their patients and find out what they need. They always remember me and make me feel very important.