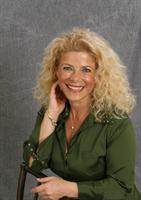 About Dr. Cheri Hertel AP, MS, Cert.AIT
Cheris known about her passion for healing others since shes a little girl. It took many years to identify exactly how best to express that passion, but once found, theres been true Joy and Gratitude with each individual Touched by her Healing Energetics. Practicing over eleven years, Cheri Hertel is a NY College for Health Professions graduate with a Masters of Science in Acupuncture. During that time Cheri had the pleasure of studying under world renowned Master Practioners such as: Rong-Da Zhu (China); Xu Ping Fu (China); Peter Yates; Nigel Dawes (UK). Here in Florida, shes a Primary Care Physician.
Additionally, Cheri studied with Kam Yuen of Yuen Energetics, now known as the Yuen Method. (Kam Yuen worked with & trained David Carradine.)
Studied personally with Bob Flaws & Xu Ping Fu in the treatment of Infertility with Chinese Medicine.

Trained in Auricular Therapy (ear) for Addictions and Weight Loss with Rong-Da Zhu.

Acquired Certification in Acupoint Injection Therapy utilizing Homeopathy, Herbs &/or Vitamins for pain management and Age Rejuvenation.
Cheris a Guest Speaker, Instructor/Lecturer & has been featured on the Radio.
Cheri helps empower you in your health goals through a Holistic approach to Spiritual, Emotional & Physical balance. Clearing blockages with any number of ways (needles are not the only modality utilized) cupping, Amma, Breath work, Nutritional counseling, Supplements, Herbs & Homeopathy and healing massage.
Cheris compassionate healing touch has successfully treated many acute and chronic conditions such as Pain (arthritis, fibromyalgia, Sports injuries, headaches/migraines, tendonitis, etc.) and Weight-Loss, Insomnia, Digestive Disorders, Infertilty (Women & Men) uses Saliva Hormone testing and Plant based Hormones.
Age Rejuvenation has a personal resonance with Cheri and offers the Lunch-Time face-lift with micro-current (no needles) known as The Beautiful Image. (Wonderfully relaxing, rejuvenating & lifting!) This combined with Homeopathy, when needed, has given youthfulness back in a safe natural way.
Come and experience reaching your health goals through stress free and relaxing Healing Energy with Cheri.
Primary Specialty
Acupuncturist
Practice Acupuncture
Gender Female
Services Dr. Cheri Hertel AP, MS, Cert.AIT is an Acupuncturist or Acupuncture office in Palm Beach Gardens, FL. Call Acupuncture at (561) 694-8883 for a detailed description of the services offered.

Acupuncturist like Dr. Cheri Hertel AP, MS, Cert.AIT offer services that often include facial renewal acupuncture, cupping, moxibustion, Gua Sha, Zen Shiatsu, Chinese herbal formula, herbal medicine, smoking cessation and Traditional Chinese Medicine (TCM). Talk to the staff at Acupuncture for information about your acupuncture needs in Palm Beach Gardens, FL.
Consumer Feedback
View All

2

Reviews
Add a Review
Recent Polls
Did you notice a foul odor when you arrived at this provider's office?
No, I didn't notice an odor
Were you able to relax during your appointment?
Yes
Add a Review