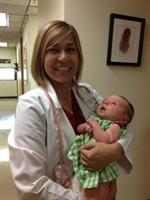 Her Health ObGyn & Fertility Center
EASTSIDE: 10400 Vista Del Sol - Suite 203


WESTSIDE: 1700 N. Oregon - Suite 560


El Paso

,

TX

79925
>
Get Phone Number & Directions
About Claudia Suarez, MD
Dr Suarez specializes in Da Vinci minimally invasive gynecological surgeries. She also has vast experience in treatment of infertility. Dr. Suarez has been in practice for over 20 years and continues to serve El Paso with the best ObGyn care available.
Her Health ObGyn & Fertility Center can help assist patients in a variety of services which include: birth control, family planning, infertility treatment, annual exams, prenatal care, STD screenings, treatment of urinary incontinence, pregnancy tests, pap smears, breast exams, treatment of osteoporosis, vaginal rejuvenation, pelvic floor reconstruction, treatment of fibroids, treatment of menorrhagia, treatment of ovarian cysts, high risk pregnancy, HPV immunizations, teen pregnancy, etc.

Primary Specialty
OBGYN
Practice Her Health ObGyn & Fertility Center
Gender Female
Services Claudia Suarez, MD offers OBGYN services in El Paso, TX at EASTSIDE: 10400 Vista Del Sol - Suite 203 WESTSIDE: 1700 N. Oregon - Suite 560, El Paso, TX 79925. Obstetricians & Gynecologists (OBGYN) specialize in female reproductive health issues as well as gynecological health issues.

To learn more about OBGYN services, or to make an appointment with Her Health ObGyn & Fertility Center in El Paso, TX, please call (915) 629-0442.
Consumer Feedback
View All

34

Reviews
Add a Review
Recent Reviews
I was always nervous to visit an ObGyn office...now I look forward to my visits. All the nurses greet me like I am visiting friends. Dr. Suarez always takes her time and makes me feel like I am her
When I visit my either one of Dr. Suarez's offices I feel like I'm visiting family. They have seen me through my infertility treatments and two difficult pregnancies. I feel blessed to have found th
by
Anonymous
xxx.xxx.180.238
May 31, 2013
Recent Polls
Did this OBGYN fully explain your treatment's risks and benefits?
Yes, in-depth
Were the restrooms well-stocked at this provider's office?
Yes, they had everything you could possibly need!
by
Anonymous
xxx.xxx.122.101
October 30, 2013
Add a Review