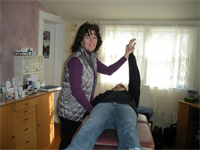 Nearby Specialists - Call Now sponsored
About Rosalyn Miller, DC
Dr. Miller is a chiropractor serving the Ft. Lauderdale, Florida area. She is a Magna Cum Laude graduate of Life Chiropractic College specializing in Applied Kinesiology and has practiced for 30 years.
She has also trained in Biocranial Therapy and Clinical Kinesiology.
Applied Kinesiology affords her tools to combine many techniques to meet the individual needs of each patient. From the new born to the elderly, each patient is given individual attention to their particular health concerns.
Primary Specialty
Chiropractor
Practice Dr. Rosalyn Miller, Chiropractor
Gender Female
Years In Practice 33
Education Magna Cum Laude -- Life Chiropractic College
Training 300 hours of classical homeopathy
600 hours of applied kinesiology
Biocranial Therapy
Staff Angela Terri Alessi LMT
Vivienne Cameron
Affiliations Mountain View Chiropractic and Wellness Center
International College of Applied Kinesiology
Certification Applied Kinesiology
Services Chiropractic
Applied Kinesiology
Nutrition
Biocranial Therapy
Neurofeedback
Cold Light Laser
Massage Therapy
Craniosacral Reflexology N.M.T
Detoxification
Weight Loss
Smoking Cessation
Additional Services Applied kinesiology
Consumer Feedback
View All

14

Reviews
Add a Review
Recent Reviews
Dr. Miller is exceptional. She is a rare gem in today's health care world. Her insight and ability to determine the cause and treatment of my problems have brought me not only relief but restoration
by
Lisa Nelson
xxx.xxx.184.123
May 24, 2012
Recent Polls
Did this provider show attention to detail?
Absolutely
by
Anonymous
xxx.xxx.142.140
March 28, 2014
Do you feel that you could have received better service somewhere else?
Definitely not; I received the best service ever!
by
Viveca
xxx.xxx.121.186
September 30, 2013
Add a Review