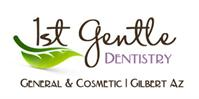 About 1st Gentle Dentistry
1st Gentle Dentistry is a dentist office in Gilbert, Arizona (AZ), dedicated to providing gentle dentistry in a friendly, comfortable atmosphere. They offer an extensive range of dental procedures including teeth cleaning, porcelain filling, tooth extractions, crowns, veneers, endodontics, and Zoom teeth bleaching in Gilbert, AZ. At 1st Gentle Dentistry, their Gilbert Dentists treat patients like they are family and make patient's safety and well-being their number one concern.

Whether looking for general, restorative, or cosmetic dental services, 1st Gentle Dentistry offers the most advanced and effective dental care available. Their state-of-the-art facility is fully equipped with high-tech equipment that will make appointments as safe and as gentle as possible. They are also the first LEED eco-friendly dental office in Gilbert, certified by the US Green Building Council. 1st Gentle Dentistry understands that an emergency can happen at any time, and they provide emergency dental care in Gilbert, AZ, so that their patients don't have to suffer in pain. If seeking a dentist in Gilbert, AZ that will provide exceptional care for the whole family please call 1st Gentle Dentistry today.

Primary Specialty
Dentist
Practice 1st Gentle Dentistry
Services 1st Gentle Dentistry is a dentist office in Gilbert, AZ, offering a wide array of general, restorative, and cosmetic dental services. They specialize in Zoom teeth bleaching, crowns, tooth extractions, veneers, root canals, and endodontics in Gilbert, AZ. 1st Gentle Dentistry also offers emergency dental care to help patients in pain quickly resolve their problems no matter what time it is. Their experienced and friendly staff pledge to offer a comfortable experience to every patient. Please call 1st Gentle Dentistry today to schedule an appointment.





Consumer Feedback
View all

10

Reviews
Add a Review
Recent Reviews
by
Anonymous
XXX.XXX.234.172
November 07, 2012
I love that they are always more than happy to answer my questions, and actually welcome questions. I've felt awkward at some other places I've visited when I've tried to ask a lot of questions, but not here. I didn't experience any unnecessary pain during my visit, and I was amazed at how much better I felt after I left. The waiting room here is spacious. I never feel like I have to sit too close to someone or that it is overcrowded.
by
rebecca
XXX.XXX.248.209
August 07, 2011
by
Anonymous
XXX.XXX.249.244
May 08, 2011