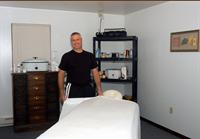 About David Jennings, owner/Massage Therapist
David Jennings
570-335-2283
Massage therapy has always been a passion of mine. I have been fortunate to have had the opportunity to experience many types and styles of massages. I have incorporated an eclectic approach to my practice. When a person comes to me for a massage, they can be assured of a strong, deep, relaxing massage. My massage style is slow and deep. Many people zone out in a deep state of relaxation. The massage you receive from me is never rushed or hurried.

Through my personal experiences, I have found the people who practice proper nutrition, exercise and take the time to realize the benefits from a professional massage are more productive and healthier. A professional massage, reduces the lactic acid build up in our muscles, and relieves stress and tension from everyday life. A quality massage is a way to hit the reset switch on life. If you are looking to maintain the quality of life or if you are feeling tired, sore or stressed out, get a massage. Massage therapy is a natural way to find the balance we need in life.
Deep tissue and sports massage are my specialty.

Sport specific massage

Each sport works specific muscles in a different way. Over the years I have developed a sport specific massage style.

I am a certified massage therapist and continuing my education to be a registered nurse. The massage you receive from me will be well thought out and specific to your needs.

This massage is geared to help each athletic event participant enjoy the full range of motion, comfort and flexibility needed to perform at the peek of their game.

Whether your game is golf, swimming, football, baseball, karate, cycling or any other sport you can think of. I have a massage that will reach your specific needs.

My studios are located in Scranton, Moosic and Clarks Summit, and Dunmore, Pennsylvania

Please feel free to enjoy the use of the fitness centers in which my studios are located in, on the day you receive your massage.

I also have a mobile, out call service.

I can be reached at

570-335-2283
Thanks,
Dave

Primary Specialty
Massage Therapist
Practice Massage Therapy
Gender Male
Services David Jennings, owner/Massage Therapist is a Massage Therapist in Scranton, PA. A Massage Therapist uses massage to treat patients. A massage therapist needs a license to practice, which can be obtained after a training program. Massage therapists can work for a spa, clinic, or in private practice.

Please call David Jennings, owner/Massage Therapist at (570) 335-2283 to schedule an appointment in Scranton, PA or to get more information.
Consumer Feedback
View All

3

Reviews
Add a Review
Recent Reviews
They keep the restrooms well-stocked here, and not just with the basics. There is mouthwash, lotion and other amenities. You can tell they want their clients to be as comfortable as possible. Not only
Recent Polls
Does the provider's staff maintain a professional appearance?
Definitely yes
by
Anonymous
xxx.xxx.195.24
March 09, 2014
Is this business in a safe neighborhood?
Yes, it was in a safe enough neighborhood
Add a Review