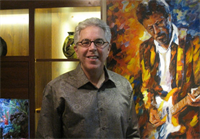 About Barry Slone, Ph.D.
Barry Slone, a psychologist in Orange, CA can provide lasting solutions to a variety of difficult life issues through the effective use of counseling and therapy. His extensive training and educational background as a psychologist make him an ideal choice for help treating issues like depression, anxiety, panic disorders, social anxiety and other issues. His Orange, CA, office is available for counseling appointments and can help with various issues by utilizing counseling solutions that last.

Dr Barry Slone office is located at:
SOLUTION-DRIVEN CHANGE, INC.
24502 Pacific Park Drive, Suite LL2
Aliso Viejo, CA 92656
Primary Specialty
Psychologist
Practice SOLUTION-DRIVEN CHANGE, INC.
Gender Male
Education 1971 B.S.Ed. Northern Illinois University
1973 M.A.Ed. Arizona State University
1974 M.C. Arizona State University
1981 Ph.D. California School of Professional Psychology/Alliant University (San Diego)
Affiliations American Psychological Association, Orange County Psychological Association, American College of Advanced Practice Psychologists, National Alliance of Professional Psychology Providers, South Orange County Depression Coalition
Certification Licensed Clinical Psychologist (PSY8916)
Licensed Marriage, Family, and Child Therapist(MFT18071)
Services Barry Slone is a psychologist near Orange, CA, who offers a specialization in Cognitive Behavior Therapy that is an effective technique that utilizes problem solving psychotherapy and counseling to treat depression, anxiety, substance abuse issues, and relationship problems.

As an experienced psychologist in Orange, California (CA), Barry Slone offers an in-depth view into the reasoning behind such tough issues and presents solutions through therapy and counseling. Call our psychologist office in Orange, CA today to set a therapy and counseling appointment with our psychologist, Barry Slone.

Dr Barry Slone office is located at:
SOLUTION-DRIVEN CHANGE, INC.
24502 Pacific Park Drive, Suite LL2
Aliso Viejo, CA 92656
Consumer Feedback
View All

8

Reviews
Add a Review
Recent Reviews
Dr. Barry Sloane is a brilliant, compassionate and experienced psychotherapist. He is professional, caring and understanding. I needed to make some monumental changes in my life and felt stuck, not kn
Dr. Slone has been a tremendous assistance to me in working through multiple issues that suddenly became overwhelming to me. Making the first appointment was easy, he was very accommodating of my sche
by
ronintheoc
xxx.xxx.234.127
February 21, 2013
Recent Polls
Did this psychologist ever take personal phone calls while in the appointment room with you?
No, they've never taken personal calls with me
by
Anonymous
xxx.xxx.228.241
December 22, 2013
Does this provider treat every client equally?
Definitely, they make everyone feel equally respected and cared for
by
Mr. T.S.
xxx.xxx.222.191
March 21, 2013
Add a Review