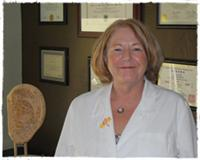 About Janean Hamilton, RN,DOM,AP
Janean Hamilton offers comfortable, effective acupuncture in Mount Dora, Florida (FL). At her practice, Harmony Health and Acupuncture, she has helped hundreds of clients achieve lasting relief from pain and suffering. Unlike traditional Western medicine, which only provides symptomatic treatment, Janean offers a holistic, comprehensive approach that treats the physical, emotional, and spiritual aspects of the body.

She offers an individualized treatment program, customized to meet each client's specific needs. Clients quickly experience renewed vigor, decreased pain, and improved overall health. For quality acupuncture in Mount Dora, Florida (FL) call Janean Hamilton to schedule an appointment.

Primary Specialty
Acupuncturist
Practice Harmony Health and Acupuncture
Gender Female
Services
Janean Hamilton genuinely enjoys helping clients in Mount Dora, Florida (FL) achieve lasting peace and balance. In addition to traditional acupuncture, she offers auricular medicine homeopathy, Chinese massage, and Moxibustion for optimal results. She also provides vitamins, minerals, and nutritional counseling for holistic, comprehensive healing. Those suffering from Arthritis, Fibromyalgia, or muscle cramping are offered quality care and lasting relief. Clients are also offered Cupping, Reiki, and Chinese Tu Na. Chinese Tu Na utilizes Chinese Taoist and martial art principles to restore balance in the body. If seeking safe, comfortable acupuncture in Mount Dora, Florida (FL) visit Janean Hamilton today.
Consumer Feedback
View All

3

Reviews
Add a Review
Recent Polls
Did this provider listen to your input and concerns?
Absolutely! This provider always listens carefully to what I have to say!
Are you going to visit this acupuncturist again?
If I need to, I'll return
Add a Review