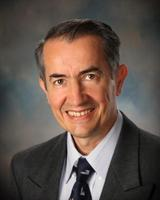 About Eduardo L Jaramillo MD Pa
I am a bilingual, English-Spanish, obstetrician and gynecologist providing services to the Golden Triangle area in our private office located in Nederland TX. We are accepting new patients.
Primary Specialty
OBGYN
Practice Eduardo L Jaramillo MD Pa
Gender Male
Years In Practice 10
Affiliations Christus Hospital Saint Mary, Port Arthur Texas
Medical Center of Southeast Texas, Port Arthur Texas.
Services Obstetrical services: prenatal care, obstetrical ultrasound, electronic fetal monitoring, pregnancy test, delivery of babies.
Gynecological services: well woman exam, pap smear, STD testing, counseling and treatment, IUD insertion, colposcopy, cryotherapy, LEEP procedure, urinary incontinence correction, endometriosis diagnsosis and treatment, hysteroscopy, hysterectomy
Consumer Feedback
View All

6

Reviews
Add a Review
Recent Reviews
I actually love Dr. Jaramillo. I love getting an ultrasound every visit even down to when I seen him once a week. He weighed my baby he let me know my baby was growing like he should. I went 42 weeks
Dr. Jaramillo was my OB doctor thoughout my whole pregnancy. Everytime I went to my appointments, I was very satisfied with the wait time, the staff, and by OB check up. He checks the baby with the u
by
Anonymous
xxx.xxx.48.97
April 24, 2013
Recent Polls
Did this OBGYN fully explain your treatment's risks and benefits?
Not really
by
Anonymous
xxx.xxx.32.150
March 18, 2014
Was it easy to make an appointment with this provider?
Practically Impossible
by
Anonymous
xxx.xxx.111.107
April 18, 2013
Add a Review