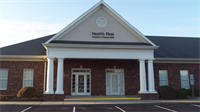 More Nearby
About Clifton Mays, D.C.
ealth First is a state of the art chiropractic center providing the most talented chiropractors in NC.
We have chiropractic offices in Greensboro, High Point, Reidsville and Burlington, NC and strive to provide the most effective chiropractic treatments for patients in our area.

Our practice includes the conservative treatment of disorders of the neck and back, soft tissue sprains and strains, non-surgical intervertebral disc lesions, carpal tunnel syndrome, whiplash associated disorders, fibromyalgia and myofascial pain syndromes, as well as headaches and migraines.

We use the latest FDA approved equipment and technology available, and combine medicine, physical rehabilitation, chiropractic and massage to ensure fast, long lasting results for our patients.
Primary Specialty
Chiropractor
Practice Health First of High Point
Gender Male
Years In Practice 16
Services Clifton Mays, D.C. practices at 3755 Admiral Dr Suite 106, High Point, NC 27265. Chiropractors diagnose and treat common spinal misalignments that can occur from lifestyle or injuries causing pain, discomfort and degenerative conditions.

Clifton Mays, D.C. may be able to treat; back pain, sciatica, neck pain, shoulder pain, headaches, sports injuries, and auto accident injuries.

To learn more, or to make an appointment with Clifton Mays, D.C. in High Point, NC, please call (336) 887-9460 for more information.
Consumer Feedback
View all

4

Reviews
Add a Review
Recent Reviews
They gave me sufficient information to make a decision about my treatment plan. Their staff is very friendly and professional. I was in awe at the level of service I received. They completely surpassed all my expectations and I will absolutely be going back. At some of the other places I've been to, the chiropractor had super cold hands, so I was a little nervous I would have to deal with that here, but I didn't at all. I was more comfortable than I've ever been anywhere else. They had quite a few interesting magazines, which made my time in the waiting room go by much faster.
by
Mary Ellen
XXX.XXX.54.213
December 11, 2013
Were the restrooms clean at this provider's office?
Yes, I could tell they were cleaned regularly
by
Anonymous
XXX.XXX.229.239
November 06, 2013
Did you experience excessive stiffness after visiting this chiropractor?
Definitely not! I felt fantastic when I left!
by
Anonymous
XXX.XXX.2.194
September 28, 2012