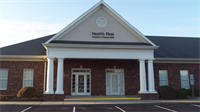 Nearby Specialists - Call Now sponsored
About Clifton Mays, D.C.
High Point Chiropractors
Our chiropractors and specialists have years of experience in High Point NC treating pain caused by work and personal injuries, whiplash from car accidents, and illnesses.

If you are injured and in need of chiropractic services then feel free to give us a call at 336-887-9460. We would love to hear from you!

Contact us today or stop by our office!

Our address is:

3755 Admiral Dr. Suite 106
High Point, NC 27265
(336) 887-9460
(336) 887-5710 fax
Primary Specialty
Chiropractor
Practice Health First of High Point
Gender Male
Years In Practice 18
Services Health First is a state of the art chiropractic center providing the most talented chiropractors in NC.
We have chiropractic offices in Greensboro, High Point, Reidsville, Burlington, and Winston Salem NC and strive to provide the most effective chiropractic treatments for patients in our area.

Our practice includes the conservative treatment of disorders of the neck and back, soft tissue sprains and strains, non-surgical intervertebral disc lesions, carpal tunnel syndrome, whiplash associated disorders, fibromyalgia and myofascial pain syndromes, as well as headaches and migraines.

We use the latest FDA approved equipment and technology available, and combine medicine, physical rehabilitation, chiropractic and massage to ensure fast, long lasting results for our patients.
Additional Services Auto Accident, Injury, Sports, Family
Consumer Feedback
View All

7

Reviews
Add a Review
Recent Reviews
Dr, Mays is one of the best Chiropractor. He has such a caring and loving doctor. I have been seeing him off and on Since he came to the area in around 2001. I will not go to another one. Just him. He
He is the best. He is a very personable person.
Recent Polls
Did this provider seem up-to-date with the current advancements in their field?
Yes
by
Anonymous
xxx.xxx.235.203
August 15, 2014
Did this provider thoroughly explain the risks and benefits of your treatment?
Yes, I felt informed when I left
by
Mary Ellen
xxx.xxx.54.213
December 12, 2013
Add a Review