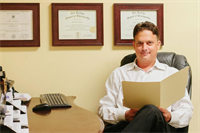 Nearby Specialists - Call Now sponsored
About Mark Lipschitz, D.C.
Dr. Lipschitz approach to Chiropractic is simple. He takes the time to understand your individual situation, thoroughly assess your physical condition, explain in detail what he has found, and then implement a program of care specifically designed for you! He consistently achieves excellent results and prides himself on our warm atmosphere and approach.


Primary Specialty
Chiropractor
Practice World wide Wellness
Gender Male
Years In Practice 20
Education Life University College of Chiropractic
Training Detect nerve interference by using their hands, instruments, x-rays or other imaging procedures (e.g., MRIs), and by ordering and interpreting laboratory tests

Adjust and/or manipulate bones in your body

Use electrical stimulation, acupressure, massage, ultrasound, deep heat, hot and cold packs, traction, and support devices

Provide guidance and recommendations on lifestyle habits, posture, exercise, diet, and stress.
Certification Chiropractic Physiological Therapeutics

Chiropractic X-Ray Theory and Practice

National Boards Parts I,II,III,IV
Services We offer gentle chiropractic care to the Smyrna, Vinings, Marietta and Austell areas. Over 17 years experience!

We treat our patients like they are people not a number. Whether you are looking to correct your posture, want balance and wellness or just get out of pain we have personalized treatments to help you reach your goals.

Personal Injury- We are well versed in properly documenting our patients injuries. We have built professional relationships with some of the best Medical Doctors in Atlanta for medical co-management or other medical attention beyond our scope. We have aligned ourselves with only the most competent lawyers.

Wellness Care- We teach our patients the value of a healthy lifestyle. Nutrition, exercise & obviously Chiropractic care!

We offer gentle chiropractic care to the Smyrna, Vinings, Marietta and Austell areas. Over 17 years experience!

Community Outreach- Our doctors perform Wellness Days, do blood pressure checks, spinal screenings and deliver educational workshops at no charge on health-related topics in their local communities.

Corporate Wellness- We have partnered with other healthcare professionals and medical specialists to offer a wide spectrum of preventative services all under one roof, right there at your workplace. Your employees have access to screenings and specialists who give one-on-one attention to helping each employee understand their health and start them on a path to leading healthier, happier lives.
Consumer Feedback
View All

3

Reviews
Add a Review
Recent Reviews
After working with Dr. Mark for less than 3 months, I went from not being able to stand for more than 15 minutes to standing for more than an hour. It was also difficult to walk for more than 30 minu
by
BlessedBrainsBeauty
xxx.xxx.236.10
March 15, 2016
strong professional care, active listening to learn about patient and what care to provide.
Recent Polls
Did your treatments with this chiropractor eliminate your need for pain medication?
No, but I need a lot less than before
Add a Review