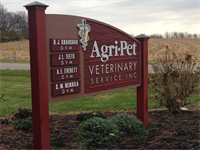 About Agri-Pet Veterinary Service Inc.
Agri-Pet Veterinary Service Inc. has been providing veterinary care to the residents of Butler and Hamilton Counties for over forty years. Our veterinary team strives to provide the very best medical and surgical care for our companion animal and equine patients, while charging affordable fees. In fact, those very words are included in our mission statement and all of us at Agri-Pet do our best to achieve that goal. Our name is unique, but it describes what we do every day. We offer invaluable veterinary services to our clients with a cherished family companion, and to our devoted horse owners.
Whether on the farm or at the office, your animal will receive comprehensive veterinary care from one of our highly trained veterinarians, which have over forty years combined experience. Our veterinarians maintain a high level of veterinary ethics and continue to advance their professional knowledge and skill by attending continuing education conferences, meetings and dialogue with our colleagues in veterinary specialties.
Primary Specialty
Animal Hospital
Practice Agri-Pet Veterinary Service Inc.
Affiliations AVMA, OVMA, AAEP, Butler/Warren VMA
Payment Options
Cash, Check, Visa, Mastercard, Discover
Services Agri-Pet Veterinary Service Inc. practices at 1447 Millville Shandon Road, Hamilton, OH 45013.

Animal hospitals offer general and emergency pet care services. Some animal hospitals offer 24 hour emergency services-call to confirm hours and availability.

To learn more, or to make an appointment with Agri-Pet Veterinary Service Inc. in Hamilton, OH, please call (513) 863-2306 for more information.
Consumer Feedback
View All

55

Reviews
Add a Review
Recent Reviews
I been taking my pets to this practice for many years. The staff is excellent and caring. They will provide the best care to your pets from their first shots to their last days. If I could give the
They are the kindest, most concerned and compassionate group of professionals that I have ever known. I have been going to this group since they took over the practive from Dr. Schieler and went to h
by
Rita Garrison
XXX.XXX.197.100
August 20, 2014
Recent Polls
Would you recommend this provider to others?
Yes
by
Anonymous
XXX.XXX.119.238
September 13, 2014
Would you recommend this provider to others?
Yes
by
Anonymous
XXX.XXX.229.112
August 07, 2014
Add a Review