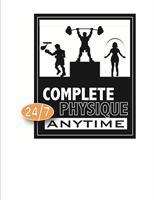 About Tom Eastwood
24 Hour Club. Access with Key Card. 3Treadmills, 1 Recumbent bike, 2 Ellipticals, Weight Stack machines: Rotory Torso, Ab Crunch, Shoulder Press, Chest Fly, V3 Universal, Smith Weight Bench with Fly, Row, Leg attachments, Leg Extension, Hamstring Curl, Inner/Outer Thigh. Free Weight Dumbbells 2-45 lb.

Classes offered: Pilates, Yoga, Circuit,Sr. Circuit, Warrior 60' Circuit, Kickboxing, Bootcamp, Zumba. Private and Small Group Training, Workout Programs Available.
Primary Specialty
Health Club
Practice Complete Physique Anytime
Gender Male
Services
Complete Physique is a health club in Kalama, WA. Health Clubs like Complete Physique Anytime offer services that often include exercise, yoga, kick boxing, weights, personal training, and nutritional counseling with World Class Products from AdvoCare. Talk to the staff at Complete Physique Anytime for information about reaching your fitness goals in Kalama, WA.Call Complete Physique Anytime at (360) 957.5785 or (360) 431-3330 for more information.
Additional Services AdvoCare Performance Nutrition and Business Opportunity
Consumer Feedback
View All

3

Reviews
Add a Review
Recent Polls
Does this provider give unbiased advice?
Absolutely! I always get sound, helpful, and completely unbiased advice!
by
Anonymous
xxx.xxx.101.164
January 14, 2013
Was this provider sympathetic to your situation?
Yes! They went above and beyond to make me feel special and respected
by
Anonymous
xxx.xxx.103.21
November 30, 2012
Add a Review