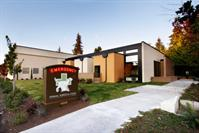 Nearby Specialists - Call Now sponsored
About Allen Johnson, DVM, DACVS
Animal Surgical Clinic of Seattle (ASCS) has been part of the Seattle community since 1986 and has the distinction of being the first surgical referral practice in the region. ASCS shares their building with Animal Medical Center of Seattle (emergency/critical care, internal medicine and oncology) and Specialty VETPATH (specialty veterinary pathology).

Animal Surgical Clinic of Seattle's singular focus on surgery and rehabilitation allows them to devote all their time and resources to the most progressive and appropriate solutions for their patients — from standard surgical techniques to leading-edge procedures. As board certified surgical specialists, it is their passion and privilege to provide general veterinary practices, pet owner clients, and pets with exceptional surgical care and service.

The team of doctors and support staff work together to create a positive and healing experience for clients and their pets. Animal Surgical Clinic of Seattle also participates in and supports several Seattle-area organizations, including Woodland Park Zoo and Seattle Aquarium, where they provide surgical expertise in these facilities.

To learn more about the surgeries and procedures performed at Animal Surgical Clinic of Seattle, or the specific training of any of the surgeons or rehabilitation practitioners, please visit the website.

To schedule a consultation or appointment with a specialist, please call (206) 545-4322.
Primary Specialty
Veterinarians
Practice Animal Surgical Clinic of Seattle
Gender Male
Years In Practice 30
Staff Allen Johnson, DVM, DACVS
Alexander Z. Aguila, DVM, DACVS
Russell L. Bennet, DVM, DACVS
Kristin Kirkby Shaw, DVM, DACVS, MS, PhD
Affiliations Washington State Veterinary Medical Association, American Veterinary Medical Association, American College of Veterinary Surgeons, Veterinary Orthopedic Society, Association for Veterinary Orthopedic Research and Education, American Association of Rehabilitation Veterinarians
Payment Options
cash, check, credit cards, Care Credit, PaymentBanc
Services Veterinary Surgery: laser surgery, oncologic surgery, minimally invasive/arthroscopic surgery, neurosurgery, orthopedic surgery, soft tissue surgery

Animal Physical Rehabilitation: massage therapy, nutraceuticals, orthotics and prosthetics, platelet-rich plasma therapy, stem cell regenerative therapy, therapeutic exercise including aquatic therapy (underwater treadmill)
Additional Services veterinary surgery, veterinary specialists, animal physical rehabilitation
Consumer Feedback
View All

5

Reviews
Add a Review
Recent Reviews
They explained all the risks and benefits of my treatment options. Everything was explained in detail, all my questions were answered, and I felt a lot better about choosing a treatment plan.
Dr. Patt
by
Anonymous
xxx.xxx.127.17
June 04, 2013
They never take that extra step to make me feel special. I haven't ever felt that they care enough to get to know me and that I'm almost an irritation. Their office was kind of gross. I was scared I
Recent Polls
Does this provider always put the customer first?
Absolutely! They have some of the best customer service I have ever seen
by
Anonymous
xxx.xxx.161.54
December 09, 2012
Did this provider answer all of your questions?
Every question I had was answered thoroughly
Add a Review