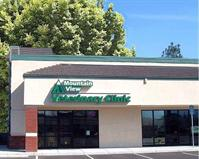 About Robert Landon, DVM
Mountain View Veterinary Clinic, were pets are family! They are here to help you have a fun, long lasting relationship with your pet. They know you have a better day when your pet is happy and healthy. Mountain View Veterinary Clinic is located in Central Point in the Albertson Shopping Center, 1333 Plaza Blvd., suite E, right off I-5 exit 33. They treat dogs, cats, small mammals and most reptiles and are open Monday through Friday, 8 to 5:30. Dr. Robert Landon has lived and practiced in the Rogue Valley for over 20 years, caring for family pets, school pets, and future pets from the Humane Society. He combines compassion and comprehensive care with convenience to make your visit relaxed and informative. At Mountain View Veterinary Clinic, they will perform a thorough exam to identify all of your pets health concerns. Then they will give you options for what further tests could be run to confirm their diagnosis. Once they have a diagnosis, they can discuss options for how to best treat your pet to meet their needs and yours. Mountain View Veterinary Clinic provides complete medical, surgical and dental services, including advanced allergy testing and stem cell therapy. They have specialists ready to answer your questions should the need arise. They want to be your pets family doctor and serve to strengthen the bond you have with your pet. You can almost always get an appointment the same day, and new patient exams are just $20. They can make house calls too. Call today, 541-664-4553
Primary Specialty
Animal Hospital
Practice Mountain View Veterinary Clinic
Years In Practice 26
Education Bachelors of Science, Animal Science from Oregon State University.

Doctorate of Veterinary Medicine from Oregon State University and Washington State University.
Training Stem Cell Therapy from VetStem.
Affiliations Dr. Robert Landon is a recent past president of the Rogue Valley Veterinary Medical Assoc., and an active member in the OVMA, and AVMA. Dr. Robert Landon is also an active member in the Central Point Rotary Club.
Services
Mountain View Veterinary Clinic offers complete medical, surgical, and dental services. They have a pharmacy onsite and carry Science Diet products. They offer advanced allergy workups and Stem Cell Therapy options. Dr. Landon performs orthopedic and soft tissue surgeries as well as spays and neuters. They offer both in house and reference labratory diagnostic tests. They are easy to get to at 1333 Plaza Blvd., Suite E in Central Point, and you can usually get an appointment the same day at 541-664-4553.
Consumer Feedback
View All

14

Reviews
Add a Review
Recent Reviews
Thank you Mr. Landon, my Russian tortoise is doing just fine! You not only gave her and I the care we needed, you also showed me in a few minutes how to give a stubborn 'lil tort oral antibiotics. F
by
Vera Eppard
xxx.xxx.185.238
June 13, 2013
Thank you Mr. Landon, my Russian tortoise is doing just fine! You not only gave her and I the care we needed, you also showed me in a few minutes how to give a stubborn 'lil tort oral antibiotics. F
by
Vera Eppard
xxx.xxx.185.238
June 13, 2013
Add a Review