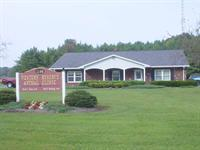 About Western Reserve Animal Clinic
Western Reserve Animal Clinic is a small animal practice located in Pierpont, Ohio. Pierpont is on State Route 7 between Conneaut and Andover, Ohio. The clinic is owned by Jesse Shirey, DVM. Dr. Shirey also manages Albion Animal Center in Albion, PA and Elk County Veterinary Clinic in Kersey, PA.
Primary Specialty
Animal Hospital
Practice Western Reserve Animal Clinic
Services
Some of the services provided by Western Reserve Animal Clinics are Puppy & Kitten Programs, Yearly Wellness Programs, Senior Health Programs including Glaucoma Screenings, In-House Lab Testing, Hospitalization, Surgery, Dental Health Care including Cleaning and Polishing, X-Ray, Endoscope, Ultrasound, Weight Control Counseling, Permanent Identification (AVID Chips and ResQ Chips). Our main priority is the care we give to our patients and the clients appreciation that we care.
Consumer Feedback
View all

41

Reviews
Add a Review
Recent Reviews
by
Anonymous
XXX.XXX.75.150
June 20, 2014
by
Anonymous
XXX.XXX.46.240
June 05, 2014
by
Anonymous
XXX.XXX.249.33
April 08, 2014