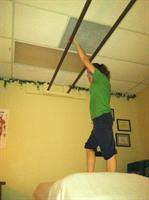 About Elizabeth Brown, MMT #2380
We have devoted our time and efforts into developing a practice that focuses on finding peace within. We invite you to try one of our very qualified therapist and begin your journey to inner peace today. Skip the gossip and noise that you may find in other establishments. At Inner Peace Massage and Body Studio, you will discover a quiet and serene environment ideal for relaxing and letting go.
Primary Specialty
Massage Therapist
Practice Inner Peace Massage & Body Studio
Gender Female
Years In Practice 18
Training White River School of Massage 1998
Staff Elizabeth Brown - Master Massage Therapist # 2380

Mayra Rodriguez - Licensed Massage Therapist # 6821

Lorela Balagtas Licensed Massage Therapist #7561
Certification Certified LaStone Practitioner, Master Massage Therapist AR lic#2380, Champissage
Payment Options
Visa, Master Card, Discover, Debit, Checks, Cash
Services Elizabeth Brown, MMT #2380 is a Massage Therapist in Fort Smith, AR. A Massage Therapist uses massage to treat patients. A massage therapist needs a license to practice, which can be obtained after a training program. Massage therapists can work for a spa, clinic, or in private practice.

Please call Elizabeth Brown, MMT #2380 at (479) 452-7977 to schedule an appointment in Fort Smith, AR or to get more information.
Additional Services LaStone, Ahh..Shiatsu, Champissage
Consumer Feedback
View All

3

Reviews
Add a Review
Recent Polls
Would you recommend this massage therapist to others?
Absolutely Not
by
Anonymous
xxx.xxx.60.165
July 11, 2014
Was this provider compassionate to you and your situation?
Yes
by
Anonymous
xxx.xxx.116.172
May 19, 2014
Add a Review