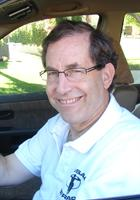 About Michael Wolfes, CLMT, CRP
25+ years bringing locally-licensed, CA Board-Certified, professional massage and Reiki services to clients' homes, offices, hotel rooms, timeshares and B&B's in Palm Springs communities and California localities daily 9am - 9pm. Specializing in Deep Tissue and Lymph Drainage massages, other modalities also available.
Primary Specialty
Massage Therapist
Practice Michael's Mobile Massage, LLC
Gender Male
Years In Practice 28
Training See Palm Desert listing
Affiliations Eisenhower Medical Ctr (Volunteer Serv), RM
Services Michael Wolfes, CLMT, CRP is a Massage Therapist in Cathedral City, CA. A Massage Therapist uses massage to treat patients. A massage therapist needs a license to practice, which can be obtained after a training program. Massage therapists can work for a spa, clinic, or in private practice.

Please call Michael Wolfes, CLMT, CRP at (760) 898-9231 to schedule an appointment in Cathedral City, CA or to get more information.