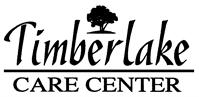 About Timberlake Care Center
Established in 1983 in Kansas City, Missouri, Timberlake Care Center is both a short and long-term care facility that offers 24-hour room and board and health care services, including basic and skilled nursing care, rehabilitation, and a full range of other therapies, treatments, and programs.

Our Philiosophy:
At Timberlake Care Center, we believe each individual is unique and shares the need for dignity, respect and personal growth. Our goal is to provide a warm and caring environment filled with skilled and compassionate staff where residents feel motivated to reach their full potential of physical and mental health. We encourage residents to personally participate in daily activities and important care decisions.

Primary Specialty
Nursing Home
Practice Timberlake Care Center
Services - Traditional Long Term Care
- Short Term Rehabilitation Services
- 24-hour Comprehensive Nursing Care
- Specific Medical Condition Assistance
- Physical, Occupational and Speech Therapy
- Visiting Specialists, Including Podiatrists, Dentists and Opthamologists
- Social Services
- Registered Dietician and Special Dietary Needs
- Numerous Daily Activities Tailored for All Personalities and Capabilities

Consumer Feedback
View all

8

Reviews
Add a Review
Recent Reviews
by
Anonymous
XXX.XXX.121.52
July 16, 2014
by
Anonymous
XXX.XXX.205.13
June 09, 2014
by
Anonymous
XXX.XXX.166.182
June 05, 2014