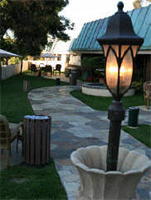 About Dave Stencil, Department Head, Web Design
Mission Hills Health Care is a locally and family owned and operated skilled nursing facility. Our friendly, multi-disciplinary team members are here to provide a comfortable home for you, whether it is for long or short term placement. We look forward to serving your health care and residential needs!

Several of our 46 resident rooms have recently been remodeled, with more to be completed shortly! Double, triple, and quadruple rooms are available and private rooms can be accommodated, if desired, as well. All rooms are fully equipped for disabled residents and each have their own private bathroom facilities. Cable TV connections are available in the rooms for a small fee along with a free TV service in two different activity areas. Free WiFi internet connectivity is available throughout our entire home. We additionally offer 3 accessible outdoor patios with lush plant life and supervised smoking times. We strive to achieve a home-like atmosphere throughout the building. We are currently undergoing a building-wide remodel to update the rooms, parking & entry, and common areas, so our environment is continually improving.

A dedicated activities department is here to provide and encourage entertainment, outings, and socializing. Church services are available, live music, movie nights and candlelight dinners, among a host of other activites, and suggestions are certainly welcome to help custom tailor our resident's experience.

Our fully equipped kitchen and dining room offer all meals served in a restaurant style atmosphere. All diet restrictions can be accommodated for and we offer multiple food options at every meal to increase the options available to our residents. A variety of snack items are also offered in between all meals. Our dietary team closely monitors the diet of all of our residents to ensure that our residents remain healthy, with a focus on constantly improving or maintaining physical condition. For a small fee, residents' guests are encouraged to come enjoy meals with us!

Guests and volunteers are encouraged to stop in. Please call or email in for more information!
Primary Specialty
Nursing Home
Practice Mission Hills Health Care
Gender Male
Services Our focus is on constantly improving all aspects of resident care. Twenty-four hour nursing support assures our residents are in good hands. For the convenience of our residents, we provide most day to day medical services within our home. Such services include physician oversight and visits; xray, lab & pharmaceutical services; specialized review and consultation; and physical, occupational, and speech rehabilitative therapies. We handle nearly all day-to-day care in house, however if a medical emergency arises, our close proximity to several acute hospitals assures any situation can be handled almost instantly.

We also believe that a healthy body alone is not enough to maintain a healthy spirit. We continually strive to ensure that all of our residents socialize frequently and maintain a feeling of love and self worth. Our goal is not to be a health care facility, but a place to rehabilitate and improve all aspects of the human emotion. Our staff is encouraged to be friends as much as they are caregivers. We look after our residents like they are family, miss them when they are out, and love seeing improvement in them. We look out for their safety, and welcome the feedback they have for how to customize their experience with us.
Additional Services Skilled nursing, long and short term care
Consumer Feedback
View All

2

Reviews
Add a Review
Recent Polls
Did this senior care facility use current and safe equipment?
Not at all, the equipment is dangerous!
by
happyperson
xxx.xxx.187.133
May 30, 2014
Did you have to wait long after you arrived for your appointment?
No, they were ready for me right after I arrived.
Add a Review