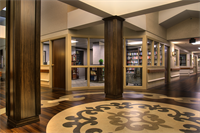 About Lancaster Rehabilitation Center
Lancaster Rehabilitation Center provides Nebraska's largest skilled nursing facility where care, comfort, and compassion are all critical to the services we provide. Our recent remodel exemplifies our commitment to these values in our care and planning. We take pride in selecting our staff based on their own commitment to the values of our facility. We understand that placing a loved one in another's care is a decision that requires thoughtful consideration made with love, respect, and concern for the individual.

Our Mission
We see ourselves as an integral part in the continuum of care. Our delivery of services is adaptable to the provision of present and future care needs of our customers.

Our goal is to provide a highly skilled and supportive environment through which we can foster dignity, independence and self-determination to the fullest extent of our customers.

To meet the needs of our customers our employees, representing many disciplines, work together as an integrated clinical team to exceed your expectations.

We are firmly committed to providing our services within available resources consistent with achievable goals.
Primary Specialty
Nursing Home
Practice Lancaster Rehabilitation Center
Services * Spacious rooms
* Beautiful outdoor gazebo with a secure courtyard
* Gift Shop
* Bistro
* Beauty and barber shop
* Theater
* Husker Lounge
* Library
* Dentistry
* Podiatry
* Optometry
* In-house Physician
* Individualized activities program
* Housekeeping/Linen services
* Medical transportation
* Delicious home-cooked meals
* Computerized call light system
* Rehabilitation therapy room
* Specialized medical services
* 24-hour skilled nursing care
* On-site registered dietitians for consultations
* Physical Therapy
* Occupational Therapy
* Speech & Music Therapy
* Orthopedic injuries & fractures
* Stroke Rehabilitation
* Post-surgical recovery
* Post-cardiac rehabilitation
* Specialized Medical Services
Additional Services Rehabilitation
Consumer Feedback
View all

34

Reviews
Add a Review
Recent Reviews
by
Anonymous
XXX.XXX.164.79
July 11, 2014
by
Anonymous
XXX.XXX.46.10
June 19, 2014
by
Anonymous
XXX.XXX.177.83
January 26, 2014