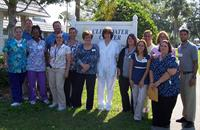 About Clearwater Center
Clearwater Center provides a full range of skilled nursing services including: Infusion Therapy, Wound Care, Tracheostomy Care, and portable Diagnostics: Laboratory, X-Ray, and EKG.

Our respite program is a short-term temporary solution for caregivers who need a break. Skilled nursing services are suitable for patients who may have suffered from a prolonged acute or chronic illness.

Our case management system provides sound recommendations regarding the plan of care for each patient/resident. Clearwater Center's Rehabilitation Services may require a wide-range of services, depending on their individual condition and diagnosis. Rehabilitation services include: Physical, Occupational, Respiratory and Speech Therapy.
Primary Specialty
Nursing Home
Practice Clearwater Center
Gender Female
Services Secured Memory Unit (27 Beds)
Long term care
Short term Rehabilitation
Activities



Additional Services Secured Memory Unit
Consumer Feedback
View all

15

Reviews
Add a Review
Recent Reviews
by
Anonymous
XXX.XXX.246.145
January 06, 2014
by
Anonymous
XXX.XXX.7.230
September 13, 2013
by
Anonymous
XXX.XXX.86.189
July 25, 2013