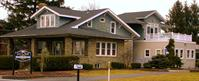 About Lisa Muff, Dr.
Lisa Muff, Dr. practices as a Dentist in Easton, PA.
Primary Specialty
Dentist
Practice Lisa Muff, DMD
Gender Female
Services Lisa Muff, Dr. is a dentist/dental office located in Easton, PA 18040. A dentist is trained to diagnose, treat, and prevent diseases of the gums, teeth, and jaw.

Please call Lisa Muff, Dr. at (610) 559-8001 to schedule an appointment in Easton, PA or get more information.