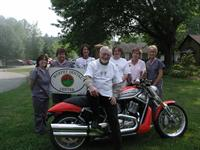 About Barry Watson, DDS
Murphy Dental Center Dentist/Barry L Watson DDS general & cosmetic dentistry located in Murphy NC 28906 # 8028-837-5911. Featuring digital xrays, laser fillings, computer milled crowns in an hour. "Modern dentistry, old fashioned service."
Primary Specialty
Dentist
Practice Murphy Dental Center
Gender Male
Years In Practice 39
Education University of Michigan
Training LD Pankey Institute for higher dental education
Staff Traci Anderson RDH, Laura Elliott RDH, Becky England CDA, Melissa Yonce DA, Connie Peels, Jennifer Pullium DA
Affiliations AGD, AACD, DOCS, FADI
Services Barry Watson, DDS is a dentist/dental office located in Murphy, NC 28906. A dentist is trained to diagnose, treat, and prevent diseases of the gums, teeth, and jaw.

Please call Barry Watson, DDS at (828) 837-5911 to schedule an appointment in Murphy, NC or get more information.
Consumer Feedback
View all

2

Reviews
Add a Review
Recent Reviews
Dr. Watson is a wonderful dentist. His staff is equally caring. The office is bright and cheerful. You'll be happy to say that he is your dentist.
They paid close attention to me and all of my questions were answered. Their staff is very friendly and professional. I was very satisfied with my visit. They were helpful and I left feeling encouraged. The office was very easy to locate. I didn't have any trouble finding it at all. I will absolutely return. I had an amazing experience, and they were by far the best I've ever seen.
by
Anonymous
XXX.XXX.176.144
June 26, 2012