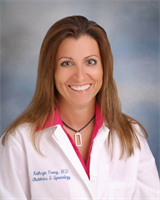 About Kathryn Young, MD
Dr. Kathryn Young completed her undergraduate education at the University of Michigan and received her medical degree from Wayne State University School of Medicine. She completed her residency program at the Henry Ford Health System, where she was named best teaching resident, and given the "gentle hands" award. During her residency she had the opportunity to see many high risk obstetrical patients and became skilled in their care. Dr. Young specializes in minimally invasive gynecological procedures and is one of the few certified da Vinci Robotic surgeons in the area. Most recently Dr. Young was named by Schoolcraft College as one of the top 50 all time graduates who have made a difference in the community. Dr. Young is board certified by the American College of Obstetrics and Gynecology and currently serves as the Chief of Surgery for Oaklawn Hospital in Marshall, MI.
Primary Specialty
OBGYN
Practice Advanced Gynecology Specialists of Marshall
Gender Female
Education Wayne State Univ Sch Of Med, Detroit Mi 48201
Training Wayne St Univ-Detroit M C, Obstetrics And Gynecology
Services Kathryn Young, MD offers OBGYN services in Marshall, MI at 139 W. Mansion St. , Marshall, MI 49068. Obstetricians & Gynecologists (OBGYN) specialize in female reproductive health issues as well as gynecological health issues.

To learn more about OBGYN services, or to make an appointment with Advanced Gynecology Specialists of Marshall in Marshall, MI, please call (269) 248-6090.