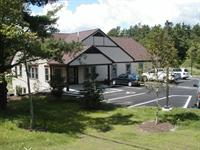 About Jessie Albert Memorial Dental Center
Jessie Albert's dental and orthodontic services meet the highest standards of professional care and is staffed by dedicated support personnel, full time dentists, orthodontists and hygienists licensed to practice in Maine. The Center provides a full array of general dental care including preventative, restorative, emergency treatment, and referral services. We now provide comprehensive orthodontic services including Invisalign.

The Jessie Albert Dental & Orthodontic Center is open: Monday-Thursday, 7:30 am to 4:30 pm. Patients are seen by appointment. We are committed to providing affordable dental and orthodontic care to all our patients. Payment for services is accepted from MaineCare, most third party insurance, and private fees are eligible for use on a sliding fee scale for children through the age of 20. We accept cash, personal checks, CareCredit, and Visa and MasterCard as forms of payment.

Primary Specialty
Dentist
Practice Jessie Albert Memorial Dental Center
Services Jessie Albert Memorial Dental Center is a dentist/dental office located in Bath, ME 04530. A dentist is trained to diagnose, treat, and prevent diseases of the gums, teeth, and jaw.

Please call Jessie Albert Memorial Dental Center at (207) 443-9721 to schedule an appointment in Bath, ME or get more information.
Consumer Feedback
View all

66

Reviews
Add a Review
Recent Reviews
the front desk office staff treated us horribly we are a retired navy family with delta dental insurance we were treated as though we were less than human 25 years military and 50 years a catholic
by
zane oliver
XXX.XXX.34.165
April 16, 2014
by
Anonymous
XXX.XXX.190.25
February 04, 2014
by
Anonymous
XXX.XXX.198.184
November 23, 2013