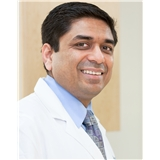 About Chetan H. Parikh, DMD, PA
Welcome to Rockville Family Dental, a general dental family practice located in Rockville, MD. We provide high-quality, experienced care in a relaxing and comfortable environment. Our experienced dentist, Dr. Chetan Parikh, aims to help you meet all of your oral health and cosmetic goals through preventive, general, and cosmetic dental procedures.

With over 20 years of experience in the dental field, Dr. Parikh has the knowledge and experience necessary to give you and your family the beautiful, healthy smiles that you deserve. Whether you need full-mouth rehabilitation with or without dental implants, oral sleep apnea appliances, orthodontics, wisdom teeth extractions, and/or oral surgery, or just a simple tooth-colored filling or pediatric check-up, our Rockville, MD dental practice can provide the high-quality care you need. We aim to be your one-stop shop for all your dental needs so that all your care is delivered under one roof.

Trained at the University of Pennsylvania, an Ivy League school, Dr. Parikh has the knowledge and talent you need to help you achieve optimal oral health. In addition, Dr. Parikh was voted as one of the Washington area's Top Dentist in 2012 by Consumer Research Group.
Dr. Parikh has a Master's degree in Oral Medicine and Maxillofacial Radiology from one of India's most reputable dental schools. When you visit him, he will not only treat your dental needs and perform an oral cancer exam, but also examine your mouth for any oral manifestations of systemic diseases. Many conditions, like systemic lupus, pemphigus, diabetes, and obstructive sleep apnea, that can be diagnosed early on so that you can get the treatment you need from your doctor sooner rather than later.

Our office specializes in creating comfortable, convenient oral appliances for patients who suffer from sleep apnea and snoring. These appliances are worn only while you are asleep to open your airway and help alleviate sleep apnea and snoring. Our custom oral appliances are covered by most medical insurances, including Medicare and Medicaid. These portable appliances use no tubes, masks, or electricity, making them an effective and convenient CPAP alternative. Our CPAP alternatives are here to help you and prevent any unnecessary relationship or health problems that result from snoring or sleep apnea.

With our nearly pain-free anesthesia technique, nitrous oxide sedation, and oral tranquilizers for those with anxiety, you can rest assured that every appointment here will be comfortable. We look forward to helping you meet your dental goals!
Primary Specialty
Dentist
Practice Chetan H. Parikh, DMD, PA
Services We provide most dental services on site and this is because Dr Parikh keeps him self knowledgeable and technologically advanced by attending 200 to 300 hrs CE hours per year. He also specializes in Dental Sleep Medicine, Implants and Orthodontics. He places emphasis on treating patients' dental problems with least invasive treatments and holistic approach.
some of the services provided are:
1. Dental Sleep Medicine
2. Implant Dentistry
3. Orthodontics
4. Cosmetic Dentistry
5. Endodontics
6. Periodontal treatment
7. Pediatric Dentistry
8. Oral Surgery
9. Full mouth rehabilitation
10. Geriatric Dentistry
Consumer Feedback
View all

7

Reviews
Add a Review
Recent Reviews
Their staff was not friendly at all, I didn't feel welcome there. On the day of my cleaning I went it and filled out the appropriate paperwork and proceeded to be seen by the doctor. I must say that the doctors methods were extremely uneasy and rough given that I was there for a routine cleaning and consultation. The issue wasn't necessarily with the service, but what has seemed to transpire over the last few years.

On the day of my cleaning I provided Diana who is the doctor's office manager with my insurance information and went on my way. I was NEVER at any point in time informed that I owed any amount as I do have amazing insurance and pay all co-pays when requested. Fast forward to about 2 weeks ago when I receive an alert from my credit bureau that Mr. Chetan Parikh at Rockville Family Dental had sent me to collections for a charge of $23 initially which turned into $68 plus a $30 collection fee. I was appalled as I am very careful with paying my bills on time and my credit. I immediately contacted the Rockville Family Dental and asked what was this charge about. Diana informed me that i had an outstanding bill of $92. I asked her why wasn't i informed of this bill over the last few years, as I would have paid it immediately. She said that I was contacted. I then asked her to provide me with the methods, dates and times that her office contact me and she provided me with the email and phone number (which is still current from 2008) but couldn't provide me with any dates to when she or Mr. Parikh contacted me. In addition, Diana nor Mr. Parikh could explain how and why the amount had jumped from $23 to $68. I immediately found this to be very fishy and after doing some research have found that the doctor's business is not doing so great so he is looking to collect on anything he can even if it is fraud. I proceeded to contact the collections company and made the payment immediately.

I suggest that you run far away from this Dental office as you can do a quick Google search and find that I am not the only person who has had issues with this particular Dental Office and Mr. Chetan Parikh at Rockville Family Dental on Hubbard Drive. This doctor has proven time and time again that he conducts very shady business practices and does not provided gentle patient care.

by
Sean Mitchell
XXX.XXX.235.11
September 16, 2013
Did this provider answer all of your questions?
Yes
Was this provider's staff friendly?
Yes
Did you leave the office feeling satisfied with your visit?
Yes
by
Anonymous
XXX.XXX.133.208
July 26, 2012
Did this provider answer all of your questions?
Yes
Was this provider's staff friendly?
Yes
Did you leave the office feeling satisfied with your visit?
Yes
Was this provider's office easy to locate?
Absolutely! It couldn't have been easier!
Are you going to visit this provider again?
Sure