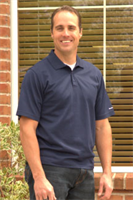 About Bradley Sutton, Dentist
My name is Bradley Sutton and I am the owner and dentist here at Sutton Family Dentistry. I graduated from Marquette University School of Dentistry in May of 2006 and I came to work with my father and mentor Dr. Ernie Sutton. During the next four years working alongside a world class dentist, I realized just how much I still had to learn. Those very valuable and enriching years allowed me to further cement a relationship with my dad that I'll cherish forever as well as become the type of dentist I wanted. He is truly a great man and a wonderful teacher, which most of you already know. I'm better as a person and as a dentist for the time I got to spend apprenticing under him. In 2010, his dental career was derailed by a brain tumor that helped him realize that there was more for the rest of his life than a spinning drill and chasing a buck. He retired to golf and spend more time with my beautiful mother, and sold Sutton Family Dentistry to me; leaving me with an awesome staff and the best patients on the planet. We moved into Four Season Dental with Dr. Kim Smith shortly thereafter, and we've been here ever since.
I am the proud dad of four beautiful daughters and one studly son! My wife Kathryn and I have done our best to cull out of them their dad's zaniness, but it hasn't seemed to work very well, as I have five kids that act just like me…much to their mother's chagrin. My oldest, Sadie, is an athlete and a perfectionist. She plays mom much of the time and has an incredibly mature and levelheaded attitude. Maggie, the second in line is a girl that likes to keep the throttle wide open. She loves soccer and her friends, and I am convinced that she could beat up most of the boys her age…luckily she chooses not to. Porter is my only son, and no, I didn't name him after my uncle. My dad and both of his brothers have the middle name of "Porter", in honor of their mother, Ruth Porter Sutton. My little Porter is a ball of fire whenever he's doing anything. He can be quiet at times, but when he's wrestling or riding his motorcycle, it's at 100%. Riley is my princess, and she flits through the house singing and playing the piano and spreading cheer wherever she goes. Soft hearted doesn't begin to describe her sensitivity. She is so sweet and precious. Which brings us to the caboose, Emrie. When she was born, we both thought she would continue with her brother's and sisters' sweet and cuddly pattern, but she bucked all the trends. She's been our firecracker/angel of destruction since the day we brought her home. She has more attitude and spunk packed into that little frame than we thought possible. We love our kids each one, and they each bring something awesome and wonderful into our lives!
I love the outdoors, and I really enjoy all of the shooting sports along with running, biking, skiing, hiking and riding my motorcycle. But the hobby I love more than any of them is dentistry. I get a thrill from seeing something ugly turned beautiful; something painful feel better; someone angry or upset recognizing that they are loved and cared for. I consider this one of my callings in life, and I take the job extremely seriously—except for the occasional joke or offhand comment. Life is too short to be upset during too much of it. I love this dental home of ours, and hope you'll love it too! Thank you for letting us serve you.

Primary Specialty
Dentist
Practice Sutton Family Dentistry
Gender Male
Services At Sutton Family Dentistry, we offer a wide variety of services. We are a general dental office, which means we do a little bit of everything. I don't offer any orthodontic work in office, but work closely with two incredibly talented orthodontists. We are proud of the dental heritage and continuing education that we attend each year; continuing a century long tradition of providing dental care to the people of Pocatello and the surrounding areas. Please call with any questions about what we offer or for pricing.

Additional Services Family, Cosmetic, Root Canal, Crown, CEREC, whitening, bleaching, nitrous oxide, hygiene, children, wisdom teeth
Consumer Feedback
View all

7

Reviews
Add a Review
Recent Reviews
Were you provided with payment plan and fee information before your dental treatment was scheduled?
Definitely not, I wasn't given information until long after my procedure had been finished
Did you feel safe in this provider's care?
Mostly, I was still a little nervous
Does this provider remember you by name?
No, I always have to remind them
Do you trust this dentist to only recommend dental procedures you need?
No, it seems like they care about money more than me
Did this provider prominently display their diplomas or business license?
Yes
by
Anonymous
XXX.XXX.115.42
February 26, 2013
Did this provider answer all of your questions?
Every question I had was answered thoroughly
Was this provider's staff friendly?
Yes, they went above and beyond
Did you leave the office feeling satisfied with your visit?
Completely!
Was this provider's office easy to locate?
Absolutely! It couldn't have been easier!
Are you going to visit this provider again?
Without a doubt!
by
Anonymous
XXX.XXX.161.179
March 07, 2012
Did this provider answer all of your questions?
Every question I had was answered thoroughly
Was this provider's staff friendly?
Yes, they went above and beyond
Did you leave the office feeling satisfied with your visit?
Completely!
by
Anonymous
XXX.XXX.241.138
February 20, 2012