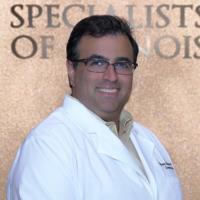 Nearby Specialists - Call Now sponsored
About Vikram Khanna, MD
Vikram Khanna, MD practices as a Dermatologist in Algonquin, IL.Vikram Khanna, MD graduated from Northwestern Univ Med Sch, Chicago Il 60611.
Primary Specialty
Dermatologist
Practice Dermatology Specialists of Illinois
Education Northwestern Univ Med Sch, Chicago Il 60611
Training Univ Hosp Of Cleveland, Dermatology; Emory Univ Sch Of Med, Internal Medicine
Services Vikram Khanna, MD provides dermatology services in Algonquin, IL. A Dermatologist is trained in skin care. A dermatologist is concerned with maintaining healthy skin, nails and hair as well as diagnosing and treating skin conditions and diseases. They also correct disfigurements, blemishes and scars. You might see a dermatologist for acne, or see a dermatologist for dermatitis.

Please call Vikram Khanna, MD at (847) 458-7546 to schedule an appointment in Algonquin, IL or call for more information.
Consumer Feedback
View All

76

Reviews
Add a Review
Recent Reviews
i enjoyed my experience here. I had to wait 15 minutes for my appointment when I was in the office. I had already downloaded my history form and filled it out prior to my arrival so I just was wa
A Very Nice receptionist welcomed me when I walked thru the front door! Friendly nurse Tina brought me back to the exam room! Dr Khanna is Very Professional and gave me what I needed. I'm happy with m
Recent Polls
Did you leave the office feeling satisfied with your visit?
Completely!
by
Anonymous
xxx.xxx.67.242
December 02, 2015
Add a Review