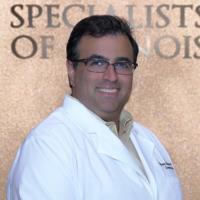 Nearby Specialists - Call Now sponsored
About Vikram Khanna, MD
Vikram Khanna, MD practices as a Dermatologist in Algonquin, IL.Vikram Khanna, MD graduated from Northwestern Univ Med Sch, Chicago Il 60611.
Primary Specialty
Dermatologist
Practice Dermatology Specialists of Illinois
Education Northwestern Univ Med Sch, Chicago Il 60611
Training Univ Hosp Of Cleveland, Dermatology; Emory Univ Sch Of Med, Internal Medicine
Services Vikram Khanna, MD provides dermatology services in Algonquin, IL. A Dermatologist is trained in skin care. A dermatologist is concerned with maintaining healthy skin, nails and hair as well as diagnosing and treating skin conditions and diseases. They also correct disfigurements, blemishes and scars. You might see a dermatologist for acne, or see a dermatologist for dermatitis.

Please call Vikram Khanna, MD at (847) 458-7546 to schedule an appointment in Algonquin, IL or call for more information.
Consumer Feedback
View All

69

Reviews
Add a Review
Recent Reviews
Dr. Khanna is AMAZING! I have never seen such a caring doctor. I had a few things going on with my skin when I came to see him and just two weeks later I am clear! I cannot be more happy. I would 1000
by
Karen K.
xxx.xxx.88.141
November 19, 2015
DSI is such a wonderful practice. All staff is extremely kind and I really feel like I am taken care of. I see Denise for CoolSculpting, which is AMAZING!!!! I am having my lower abdomen treated and j
by
Gwen M.
xxx.xxx.186.137
October 14, 2015
Add a Review